Peloton offers U.S. customers in the lower 48 states a 30-day trial of their bikes. Then, if the buyer decides Peloton is not for them, they can return it for a full refund on the bike (delivery and set up not reimbursed). Many people would like the opportunity to buy one of these gently used bikes, as the price for a new one is expensive. But Peloton's website doesn't offer these for sale. Why?
Peloton refurbishes the bikes that are returned through the 30-day trial. Unlike their second-hand bikes, these are backed by a warranty. They are offered at a price through an employee "Friends and Family" program. Occasionally, they will also be offered elsewhere, such as Peloton Digital Members.
The secondhand Peloton market is full of bargains. But they come with a significant drawback: no warranty. Even if the bike is still within the warranty period, the warranty does not transfer with ownership. Thus, paying slightly more for a refurbished bike is an excellent deal: only used for 30-days and has a 12-month warranty. But getting your hands on a refurbished Peloton isn't easy. 
Who Can Buy A Refurbished Peloton?
Peloton refurbishes the gently used equipment that is returned after the 30-day trial. Customers can only obtain a full refund if these bikes meet the "like-new" requirement, and thus, these refurbished bikes are of excellent quality. However, getting your hands on one isn't easy. 
Peloton's stock of refurbished bikes is often very limited. Those looking for one can check on their website for availability and see if they qualify.  In the past, these were typically offered to those in their "friends and family" program: employees along with friends and family. 
However, Peloton sometimes expands its net. For example, when Flywheel went bankrupt, Peloton offered its members a refurbished Peloton. Members of Peloton's Wellness Program, including the Digital Only Members, have also received push notifications when refurbished bikes are available. But sometimes, these offers are restricted to specific zip codes. 
Why Doesn't Peloton Offer Refurbished Bikes To A Wider Base?
Peloton offers returned bikes and other equipment to a narrow audience. Even push offers are often restricted to specific zip codes. This has led some to speculate that Peloton is stingy with refurbished bikes because they want clients to buy new ones. 
However, obtaining a secondhand Peloton bike isn't difficult. Peloton even advises potential clients where to look for secondhand bikes on their website. Yes, bike sales help the company, but having people committed to monthly classes is the cream, and they want as many people signed up as possible. It's the subscriptions that truly peddle the business. 
The reason appears to be a lack of stock. Not enough people return the bikes after the 30-day trial to provide Peloton enough to offer them beyond their current scope. When people decide to move on from the bikes, it is well past the 30 days. These bikes go on to be sold on the secondhand market.
Even Peloton's offer for trading in older models for the Bike+ did not bring in the anticipated stock. But as Wirecutter pointed out in an article in April 2022, the trade-in offer isn't fantastic; most folks would get more just by selling it themselves secondhand. 
Does Peloton Offer Rentals?
As of May 2022, Peloton has not offered rentals. However, they have raised the possibility, including in an article in Parade at the end of 2021. However, former CEO John Foley didn't anticipate it happening in the next year. It remains to be seen if Barry McCarthy shares the former vision and, if he does, the timeline. 
Is Peloton Expanding To Gyms?
Peloton has been looking at expansions, starting with its corporate Wellness Program. As The Washington Post wrote in May 2022, they are implementing a strategy to get Pelotons into workplaces, apartment complexes, and hotels. But it isn't clear if Peloton will expand its own studios or partner with a gym. 
However, it is speculated that, like their push offers to the Digital members, opportunities to buy refurbished bikes would increase. However, it is not clear if such a move by Peloton would lead to hybrid memberships or if you'd have to pay twice, such as home membership and gym.
Where Are Secondhand Peloton's Sold?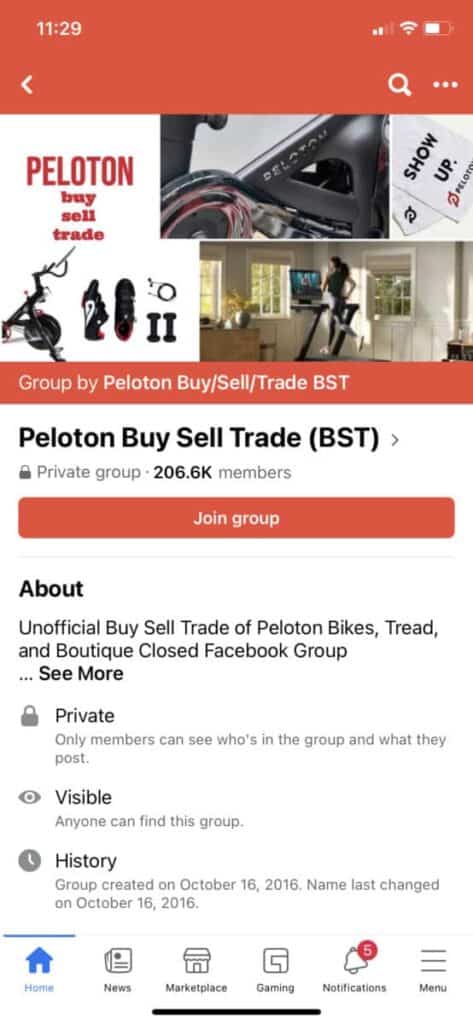 Peloton does not sell secondhand bikes. However, they do provide advice on their website recommending:
People you know
Facebook groups
Online marketplaces such as eBay, Facebook, and Craigslist
In short, the Peloton advice is general and would be the same paths used to buy a used kayak, golf clubs, or hand weights. Here is how much people ask for used Pelotons and the best places to find used bikes.
Many people end up having buyers remorse and cannot stick with a workout regimen. Here are the top reasons Peloton users have buyers remorse.
Its condition is vital when looking for a used Peloton bike, as the warranty does not transfer. However, it is worth asking the seller if they still have any prepaid membership credits. If they do, these can be transferred to the new Peloton owner. This is done by the seller emailing the company at: [email protected] and suppling their info and yours, including name and email address.
Where Does Peloton Offer The 30-Day Trial?
Peloton offers the 30-Day trial to the majority of the 48-States. However, Pelton excludes areas accessed by ferry, along with Hawaii, Alaska, U.S. Virgin Islands, and Puerto Rico. 
Where Does Peloton Refund The Shipping Fee?
Peloton does not necessarily refund the shipping fee. This is only granted to customers that live in "eligible areas," and these zones are not as large as their 30-day trial catchment area. If you have concerns about this fuzzy area, it is best to get clarification before purchasing and keep records of their answer. 
Does Peloton Trade-In Offer a 30-Day Trial?
Peloton does offer a 30-day trial to customers who traded in their old bike for a Bike+. Those who return the Bike + within 30-days will receive a refund, provided they meet the eligibility requirements. However, these customers will not be given their original bike back. As the website clearly states, "Trade-ins are final." 
Conclusion
Peloton refurbishes equipment that's been returned during the 30-day trial. These bikes are gently used, are in excellent condition, and are backed by a 12-month warranty. However, they are not the easiest to find. If you decide to look for a secondhand bike, be aware that the warranty will not transfer. However, membership credits do, so make sure you inquire with the seller if any are available.