When you pay hundreds of dollars for a high-end product, you don't expect it to break easily. The same expectation will be present when you buy a state-of-the-art Peloton Bike. Any customer should ask the following question, "How often do Peloton Bikes break?" before committing to buying a Peloton Bike.
Peloton Bikes can last for years without any part needing repairs, where some can break shortly after delivery, or worse still, delivered in a non-working state. Improper setup of the Peloton Bike can also lead to some parts not performing as it should, becoming defective in a short span of time.
Peloton will replace any part of a bike defective in materials or workmanship under their Limited Warranty. The problem with your Peloton Bike breaking is not the replacement part but rather the turnaround time to get it fixed. A time that you're still paying for a service that you are unable to use due to many factors. 
In General, How Often Do Peloton Bikes Break?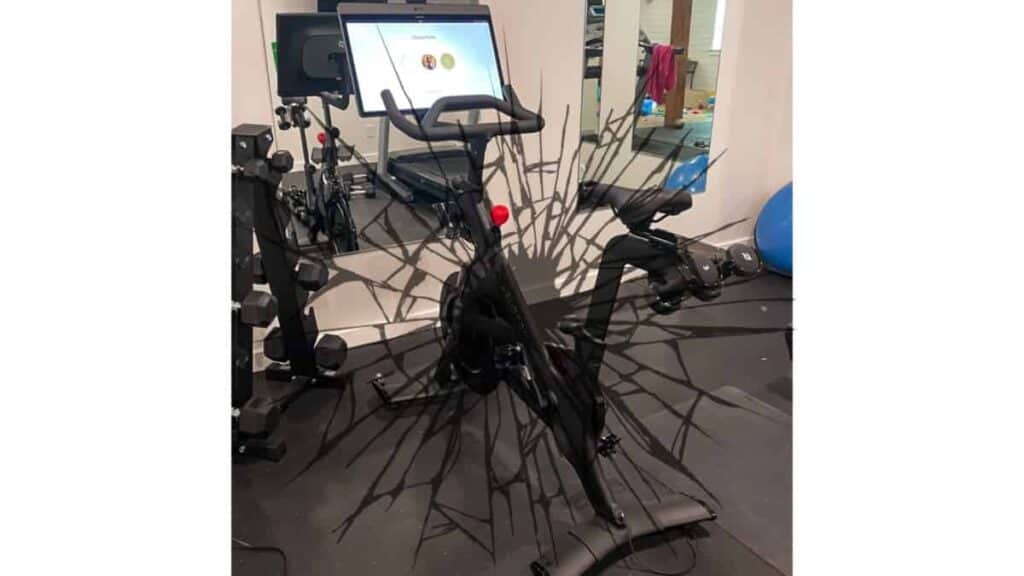 Considering the price of a Peloton Bike or Bike+, you would hope never. Peloton Bikes are built to last for years. But like any high-end product, there's always a chance you get a slightly or serious defective model upon delivery. 
You won't find any specific data on the internet of exactly how often Peloton Bikes break. The best source of information regarding this question is to look at what actual owners are saying online on forums or review websites.
How Often Do Peloton Bikes Break According To Owners?
Peloton is a $34 Billion company specializing in producing stationary workout bikes and treadmills paired with interactive workout capabilities. Millions of Peloton Bikes have found their way to the consumer home, with many satisfied clients.
However, there have been many reported cases where the Peloton Bike is not fully functioning or broken upon delivery. It seems like any part of a Peloton Bike can break at any time. Working my way through countless customer feedback found on ConsumerAffairs, the following issues have been highlighted:
Pedal pulley slips 
Monitor cable faulty
The wheel makes audible sounds
Handlebars unstable
Pedal locking up (2 months after delivery)
Total bike shut down after 2 weeks
Flywheel Bearings (within 4 months) (Read our full article on bearings going bad)
Screen failure (2 weeks after delivery)
Lower receiver unserviceable (month and a half after delivery)
Heart rate monitor not working (no replacement due to 30-day warranty on accessories)
Shoddy solder workmanship (bike replaced with a model even worse than the original)
Front and axle bearings (50 hours of use)
Bike frame damaged upon delivery (3 months later no frame replacement)
Crank problems (3 Months after delivery)
Pedal broke off (1 hour after delivery and shoddy setup)
Monitor software not working (just after a year – which means no warranty protection)
The bike doesn't turn on (15 days after delivery)
The seat keeps moving down (despite tightening the bolt)
The bike doesn't work at all (on delivery date)
The touch screen function doesn't work (5 months after delivery)
The screen stopped working (less than a week after delivery)
The entire crankshaft broke (three days after delivery)
Screen connection issues (6 days after receiving new screen)
Bike not turning off as it should (wiring problem) – six months after delivery
Peloton scores an impressive 4.5 on Trustpilot. However, the negative reviews that are directed at the company regarding products that break quickly, deliveries not being handled professionally, and lack of customer service seems to be the same as on other platforms:
The touchscreen isn't functional (after three rides)
Crank arm and pedal broke (within a few days after delivery)
The bike was delivered in a broken state
Needed replacement parts within a couple of months
Bearings broken (waited months before it was fixed)
Bearings broke within one year
Monitor not working (from date of delivery)
Flywheel problem upon delivery (had to wait three months before being fixed)
Pedal broke off (1 month after delivery)
Faulty resistance indicator (from date of delivery – waited 3 weeks for a technician
Broken bottom bracket (1.5 weeks after delivery)
Pinched cable causing screen not to work (day of delivery – waited 2 months for a new cable)
Broken computer screen (delivery date waiting for months to get it fixed)
Calibration faulty, metrics not calibrated correctly, the bike performs loudly (replacement bike)
The bike stopped working (1 month after delivery)
The bike hasn't worked since the delivery date (waiting more than 2 months for a technician to come out)
Bike+ handlebars wobble
Bent flywheel (upon delivery, waiting more than 3 months for a replacement part)
The machine is covered in rust due to sweat (the bike is 1 year old – the warranty doesn't cover replacement due to sweat damage)
Peloton has hundreds of thousands of happy 5-star customers, but reading through clients' comments that they received broken or defective products was abnormally high and rather discouraging in how the company handled these issues. According to the New York Times, Peloton scored a meager 1.4 out of 5 stars with the Better Business Bureau.  
Are You Covered When Your Peloton Breaks Under Warranty?
Your Peloton Bike or Bike+ is covered under Peloton's Limited Warranty :
HD Touchscreen: 12 Months
For 12 months from when the Peloton Bike was delivered, Peloton warranties the touchscreen against faults in workmanship and materials.
Frame: 5 Years
For five years from the initial delivery date, Peloton warranties the frame (excluding any moving parts attached to the structural frame) against faults in workmanship and materials.
Components for Bike and Bike+: 12 Months
For 12 months from when the Peloton Bike was delivered, Peloton warranties the components and all original parts of the Products, other than the pedals, against defects in workmanship and materials, including the belt, brake resistance, crankshaft, seat post, handlebars, and a water bottle holder.
Bike and Bike+ Pedals: 12 Months
For 12 months from when the Peloton Bike was delivered, Peloton warranties the components and all the original parts of the original pedals that come with the Products against faults in workmanship and materials. 
Product pedals are not assured against normal wear and tear; thus, you must inspect them regularly for any damage, loose pieces, or other indicators of wear and tear that could lead to breakdowns or part failures. 
Any pedal that exhibits wear or has damaged parts should be taken out of use right away. Please see Peloton's website for a guide on keeping your pedals in good working order.
Labor: 12 Months
For 12 months from when the Peloton Bike was delivered on the Product originally constructed by an authorized Peloton technician, Peloton will reimburse the labor cost for the repair or replacement made under this Limited Warranty.
Repair labor is not covered in locations where Peloton did not originally build the Product or if the Product is transported outside of Peloton's service region unless relevant legislation mandates differently.
A Peloton Protection Plan can be purchased to cover your bike or bike+ for an additional 36 months. The limited warranty covers parts that break after using it for a while, within the periods mentioned applicable after the delivery date, and if your Peloton Bike is delivered in a broken state.
How Good Is Peloton's Delivery And Repair Process?
Looking at the comments found online, it's mostly a case of hit and miss. Deliveries were in shambles during the pandemic, and nothing much has changed to date. Some unfortunate customers wait more than 6 months before delivery takes place, after numerous cancellations or no-shows, and paying Peloton in full.
Peloton started using a third-party company called XPO Logistics, and many of the complaints found online have to do with how this company communicates before delivery and the absolute lack of customer service from Peloton's side. The staff of XPO, according to many clients, doesn't set the Peloton Bikes up properly, if they even set it up at all. Not being able to speak English doesn't help when communication is vital.
Trying to resolve these issues seems to be a pillar-to-post exercise. When you talk to a customer service person at Peloton, most clients refer to the experience as horrible and without a definite outcome. Many clients feel that Peloton is selling bikes that they don't have in stock, yet taking the clients' money on the day they order the bike and leaving XPO with the impossible task of delivering a bike they don't have.
Upon delivery, some clients' Peloton Bikes are damaged or not functional. Yes, it's automatically covered by the Limited Warranty, but it seems to schedule the repair of the broken part is also a mission of note and an exercise that results in spending hours on the phone. The qualified Peloton Technician crew of old has been replaced by another third-party company that is not as clued up as the original crew.
The repair or replacement process is also not what it should be. Clients who receive faulty and broken bikes have to wait for weeks and months before a scheduled appointment where a technician comes out to perform a check. The clients have to wait until they receive a replacement part in the mail before booking an appointment, as the techs don't have parts to fix the bike.
With all the delays mentioned above, breakdowns in customer service, unavailability of bikes even when it has been paid in full, receiving a broken Peloton Bike, or one that breaks shortly after delivery, there seems to be a huge lack of urgency from Peloton to put things right.
It may be because they've already received the impacted clients' money and still charging them a monthly service fee, even when the bike has never been used. For Peloton's sake, I hope this is not the case and that the young company is experiencing some growing pains that will hopefully be sorted out soon; because Peloton is an awesome concept. 
People love the idea of Peloton. But for something to work, all departments should be a functioning unit, which is currently lacking in the after-sales space.
Our Experience With Peloton
Our delivery service was exceptional, and we thought that it was important to share because not all experiences are terrible. It's unfortunate to hear that there are many dissapointed customers when it comes to delivery and repair, but we had an awesome experience.
Our Peloton bike arrived very quickly after we purchased. I believe it took about 4-5 days. The delivery of the bike was seamless and the set up was thourough, they even spent extra time with us to answer all of our questions. We have had zero issues with the Peloton bike and it's been our favorite piece of workout equipment.
If you are dying to get your hands on a Peloton bike we feel that it's worth the risk, as you may have a totally wonderful experience…it's certainly not all bad.
Conclusion
Your Peloton Bike and Bike+ are automatically covered by a Limited Warranty, covering you in the case of your bike breaking due to defects in materials and workmanship. Some Peloton Bikes last for years, while others break in a matter of days. Call it the luck of the draw. The problems arise when you need the broken part repaired or the bike replaced, as some clients liken the process to pulling teeth.