Have you, or are you considering jumping on the Peloton bandwagon? If you're like me and love a great spin class then you may be wondering whether or not to get yourself the Peloton spin shoe. 
Overall, the Peloton Cycling shoe will not be favored by the majority of people due to the narrow fit, the stiffness of the shoe, and the challenging to adjust ratchet clip. If you are looking to bundle your Peloton bike with shoes and have a narrow fit then this shoe may be a good fit for you.
Let me break down all the details on this shoe for you, so you are able to make an informed decision when it comes to making the right spin shoe selection. Read on to discover all you need to know about this shoe.
Why Trust Us?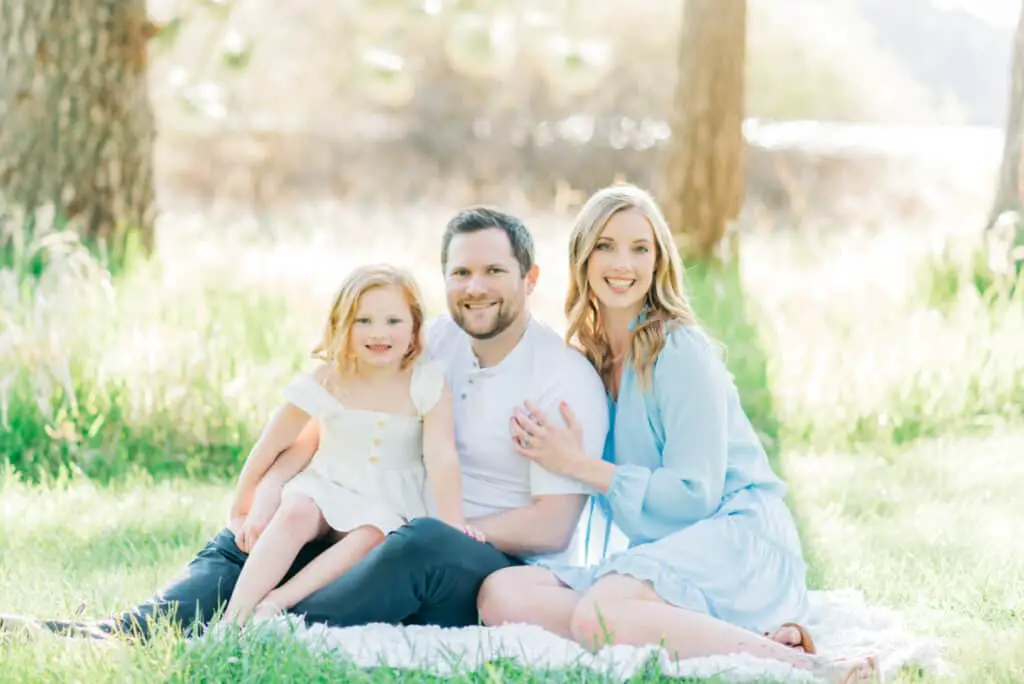 My husband has trained and competed in Ironman and from experience knows what to look for in a cycling shoe that delivers performance as well as is comfortable for a long ride.
I on the other hand am a Peloton junkie and am obsessed with riding nearly every day. I even have a 60 day streak where I took a Peloton spin class every day for 60 days before giving myself a day off.  With the amount of ride time I put on our Peloton, having a secure and comfortable spin shoe is integral so I can get up each morning and get to the grind without any discomfort. 
Our Personal Review
The Peloton cycling shoe is an interesting shoe to review. I remember going online to research this particular shoe at  Peloton.com and they offered the bare minimum when it came to details on the shoe. 
When looking at other competitor shoes I could find much more detail on the spin shoe which is very helpful when making a decision on what pair to buy. So, right out of the gate, I did not have a ton of confidence in knowing that I may love the shoe. I want a lot of information before purchasing, especially when that purchase is over 100 dollars, and Peloton, unfortunately, did not give me the user experience that I was hoping for. 
Also, Peloton has one unisex shoe available, in one color…that's it! So, if you are hoping to have some options then steer clear of the Peloton spin shoe, because it gives you none.
Selecting the appropriate size was also a challenge as the shoe does run small, and there is no available size chart. I ended up sizing up two sizes and that ended up being perfect!
When the Peloton cycling shoe arrived at my door my first feeling was wow, that's a sleek-looking shoe! It appears to be made to last, I don't believe this shoe will have many wear lines on the exterior because it is a very stiff material. The look of the shoe should stay looking pristine for potentially years to come. 
After wearing and using the Peloton spin shoe my first major gripe is that the shoe is pretty narrow. My feet lean on the wider side and my toes feel pretty squished in this particular shoe. 
Secondly, I was pretty excited that the Peloton cycling shoe had 3 different adjustments. My hope was that this meant I could achieve a "perfect fit" but this has just not been the case.
 The shoe has two velcro straps as well as a quick ratchet clip near the top of the shoe. I love the two velcro straps but where I ran into trouble was with the ratchet clip. It seems as though I can never get that perfect fit feeling, Either the shoe is too loose or too tight and pinching (especially when out of the saddle) right at the ratchet clip. This inconvenience has caused me a lot of grief during my rides as I'm frequently bending down trying to adjust the spin shoe. 
The shoe is also very very stiff when riding. I will say that the peloton shoe is certainly wearable if adjusted properly but it's definitely not the most comfortable spin shoe I have worn and would not deem it worthy of my purchase because I cannot be constantly adjusting my spin shoe. I want to step onto my spin bike and get to work without the discomfort and inconvenience of my spin shoes. 
Overall I would give this shoe about a 4 out of 10 for comfort and wearability. If you are looking for a spin shoe that will literally feel like a cloud and perform like a dream check out this article on my very favorite spin shoe! 
Pros
Sleek design
normal ventilation
The tongue does not move when riding
Good for narrow feet
Designed to last on the exterior
Can purchase in a bundle with a Peloton bike
Delta cleat comes with the shoe but is unattached
Cons
Stiff while riding 
The narrow footbed is not for wide feet
Ratchet clip difficult to get the proper adjustment
Only compatible with the Delta cleat
Nearly zero half sizes available (only men's 10.5 and 13.5)
Adjustments are frequently needed during rides due to discomfort
Loosening the ratchet clip is challenging, especially when clipped in
One shoe option
Features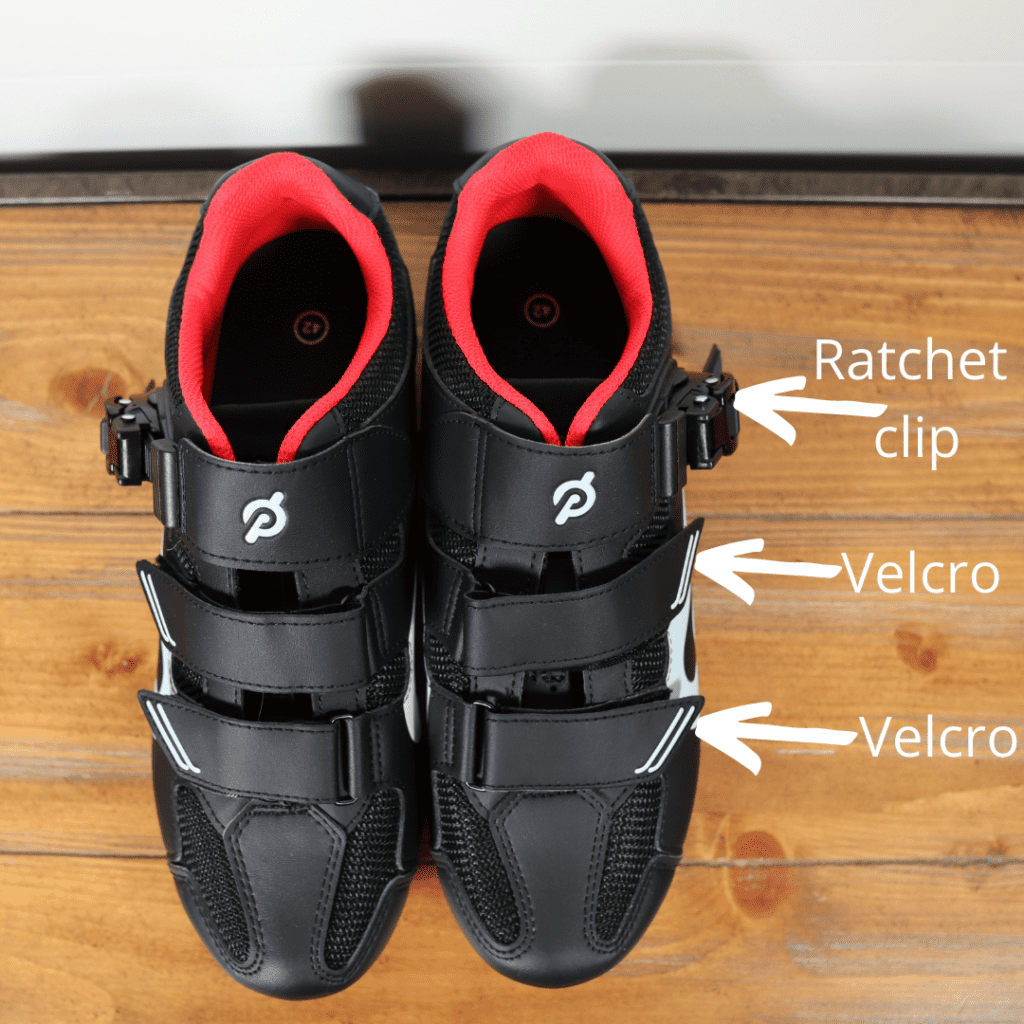 Breathable upper
The base of the shoe has a mesh vent
Two velcro straps
One ratchet clip
Price/Availablity
The Peloton Cycling shoe is a bit pricey compared to many other competitors' spin shoes. Is it the most expensive..certainly not but I will say I can find an excellent spin shoe all day long at the 100-dollar mark and these are 25 dollars over that. 
The Peloton spin shoe is unique because it can be purchased as a bundle with the purchase of the Peloton spin bike. Many people love the convenience of being able to buy everything all together as it creates less of a hassle or need to research which spin shoe to purchase.
 I also love that these packages or bundles go on sale, specifically during the holidays. So you could say that when purchasing a bundle that is on sale you are getting the spin shoe for free, and who doesn't love that?
The downside is that the only place that you can purchase this spin shoe is on Peloton.com. 
There is no option to hop into the store and pick up this spin shoe or to purchase on amazon and receive it at your doorstep two days later.
 If you happen to live near any of the 95 Peloton showrooms you could pop in to try on the spin shoes to ensure that you correct size and to see if you like the fit, they will also allow you to pop on the bike and test them out at most of the showrooms which is a nice benefit. From there the salesmen can directly order the spin shoe for you or you can order the shoe yourself online. 
What's Included
Shoes 
Delta cleats
Tools and Allen wrench (for installing Delta cleat)
Instruction manual
Compatibility
The Peloton Cycling shoe is only compatible with the Delta Cleat. In our family, we like to have our options and the Peloton spin shoe simply put does not give us any. If you did prefer a different cleat style such as the SPD this shoe does not offer that option. 
Comfort
The comfort of the Peloton spin shoe is my primary concern and is the main reason I do not recommend this shoe. 
The narrow footbed squishes my toes, putting my feet to sleep. The Ratchet clip pinches my foot when tightened to my ideal fit, so I'm forced to wear the shoe looser than I would prefer. While going in and out of the saddle the shoe is either too loose or tight, forcing me to frequently be adjusting the spin shoes mid-ride..and making those adjustments is no easy feat either. These shoes simply are not that comfortable. 
If you want comfort look no further than this pair of spin shoes.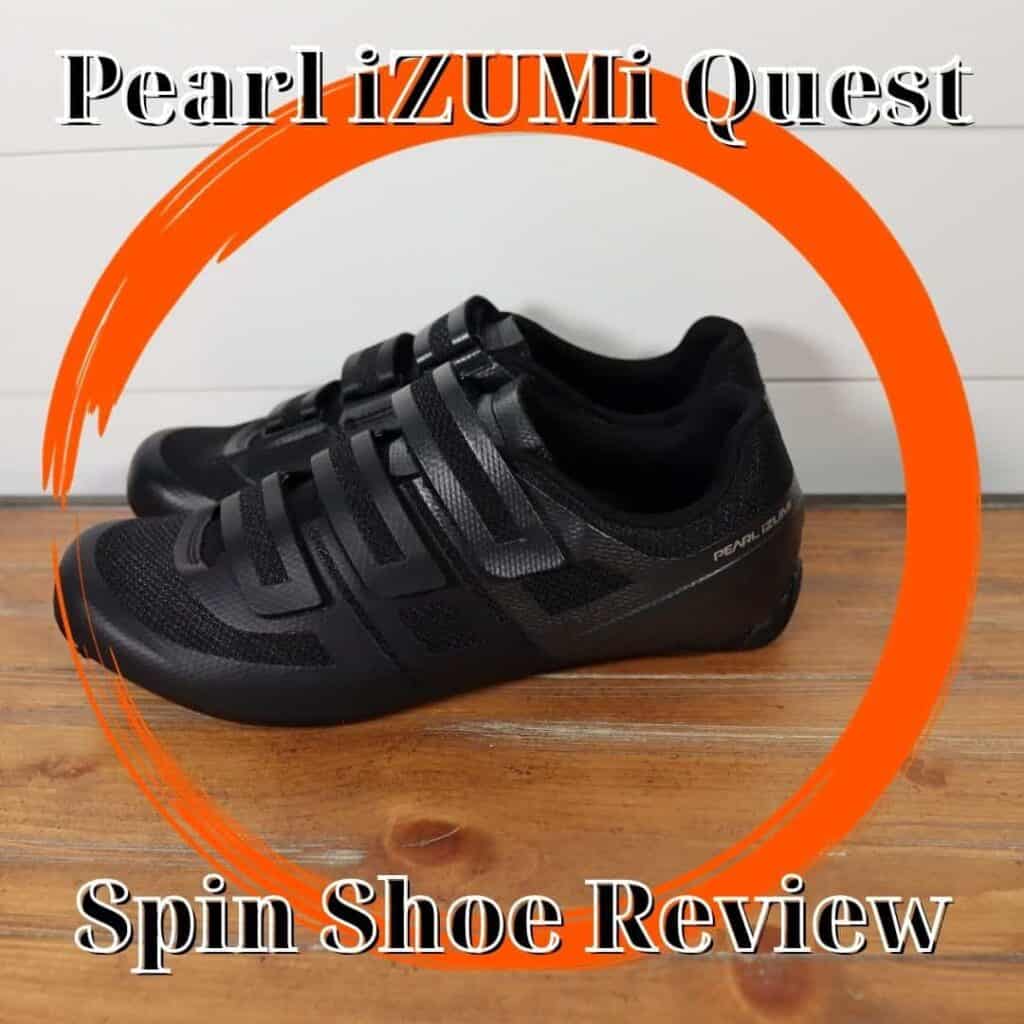 Secure
Due to the fact that it's so challenging to get the shoe properly adjusted without discomfort, I would have to say the shoe is less than secure. Generally, I am riding the bike with my heel lifting from the shoe, which is certainly not secure. If the main object is the feet being secure in the shoe then I would advise against the Peloton spin shoe.
How The Spin Shoe Rides/Performance
When riding at a cadence of 80 and resistance around 35-40 in the saddle I would say the ride is enjoyable. In other words, if you are on a  nearly flat road ride at an easy pace then the shoe does its job.  The problem is when the effort on the bike changes that the shoes don't perform well. This is due to pinching from the ratchet clip (especially when out of the saddle) or the discomfort from my toes being squished. If you have a narrow foot I do believe you will have much less trouble with this spin shoe, but you will still most likely run into the same issue of needing to adjust the ratchet clip frequently when riding due to discomfort. 
Conclusion
Overall, this is simply not the spin shoe for the majority of people. When cycling, it's crucial to have maximum comfort and performance and unfortunately, this shoe misses the mark on both of those fronts. I hope you found this information insightful and has helped you in the decision of choosing the correct cycling shoe for you.