Are you trying to decide which spin or cycling shoe is going to be best for you? I have been there, and have great news for you. My husband and I have spent countless hours researching and testing cycling shoes and are so happy to highly recommend the PEARL iZUMi Quest Road cycling shoe!
If you are interested in learning why we so highly recommend this spin shoe, then just keep on reading to find out all the details. 
Pearl iZUMi Quest Road Cycling Shoe Review
Initially out of the box the Pearl iZUMi cycling shoe is very simple and clean looking. I love the look because over time the wear and tear will be much less evident than say a much louder spin shoe would. The spin shoe is very easy to loosen with its three velcro straps making it a breeze to put the shoes on. 
After over 1,000 miles of riding, my husband and I both agree that the triple velcro adjustment is wonderful for getting the shoe perfectly secure without adding any discomfort. The straps are easy to manipulate mid ride just in case you need a quick adjustment.
Don't be fooled and get sucked into a higher-end shoe with the BOA system, if you want the ultimate adjustment, you will want something with 3 points of adjustment such as these shoes. A single BOA cable doesn't cater to adjustments like this shoe does.
These shoes have some of the best ventilation out of any shoes we have tested. There are several vents on the bottom of the foot bed, as well as good ventilation on the top of the shoe and tongue. This is a plus and something you need to look for in a shoe as compared to others.
Once I had the cycling shoe on I immediately noticed that my toes had plenty of space to move around. (finding a spin shoe that doesn't squish my toes has been a challenge) Since this shoe has some extra wiggle room for the toes I can confidently say that this shoe would be great for individuals with wider feet, like myself!
The tongue on the shoe is easily adjustable to find optimal comfort. 
My favorite part of the PEARL iZUMi spin shoe is hands down the ability to adjust these as much or as little as anyone may need. With the triple velcro adjustment, you can easily tighten the shoe to the perfect position and still have range of motion with zero pinching or discomfort. It's important for me to note that with the majority of other spin shoes once I have them tightened I do experience some form of discomfort. 
These spin shoes allow for a comfortable and supportive ride no matter how long you plan to be on the bike, which is the ultimate goal for most cyclists. 
This shoe is optimal for beginner and expert riders who want a good value, a comfortable shoe, good compatibility, as well as high adjustability. This is our #1 Pick
Finally, these shoes are a breeze to un-velcro and slip off, there is zero hassle involved and my feet feel great at the end of the ride!
---
Pros of the Pearl iZUMi Quest Shoe
Sleek simple appearance
Three strap design to secure feet comfortably
Easily adjustable tongue
Lightweight stiffness with a stiffness rating of 8
Reflective elements for night riding
Compatible with 3 bolt and 2 bolt cleats
Wide foot and toe bed, great for wider feet
Great walking comfort
No hassle to put on or take off
Carbon Fiber Insert
Cons of the Pearl iZUMi Quest Shoe
Less Flashy than other brands (this may be a good thing to you)
Narrow feet may find the shoe a bit too roomy
---
Features of the Pearl iZUMi Quest
Bonded seamless upper for comfort, and durability
SPD and 3 bolt road cleat compatible
Reflective
EVA foam and rubber heel bumper for comfortable walking as well as stability
Composite power plate
Carbon fiber forefoot insert
3 strap design
Price and Availability
The price of the PEARL iZUMi quest road shoes is on the lower end than the average for a name-brand spin shoe. The comfort of the shoe is certainly worth the price point if you ask me, and I actually consider them to be a great value because of the quality and comfort that the spin shoe provides.
Check the Pearl iZUMi Price on Amazon
The PEARL iZUMi Quest Road shoe is widely available and can be found at retailers like REI, Backcountry.com, as well as Amazon. Having a shoe that is widely available makes acquiring this shoe a breeze.
I love having the option to walk into a retailer that day to find the perfect spin shoe, or wait two days for the shoes to arrive on my doorstep, and these shoes provide both of those options. 
Compatibility of the Quest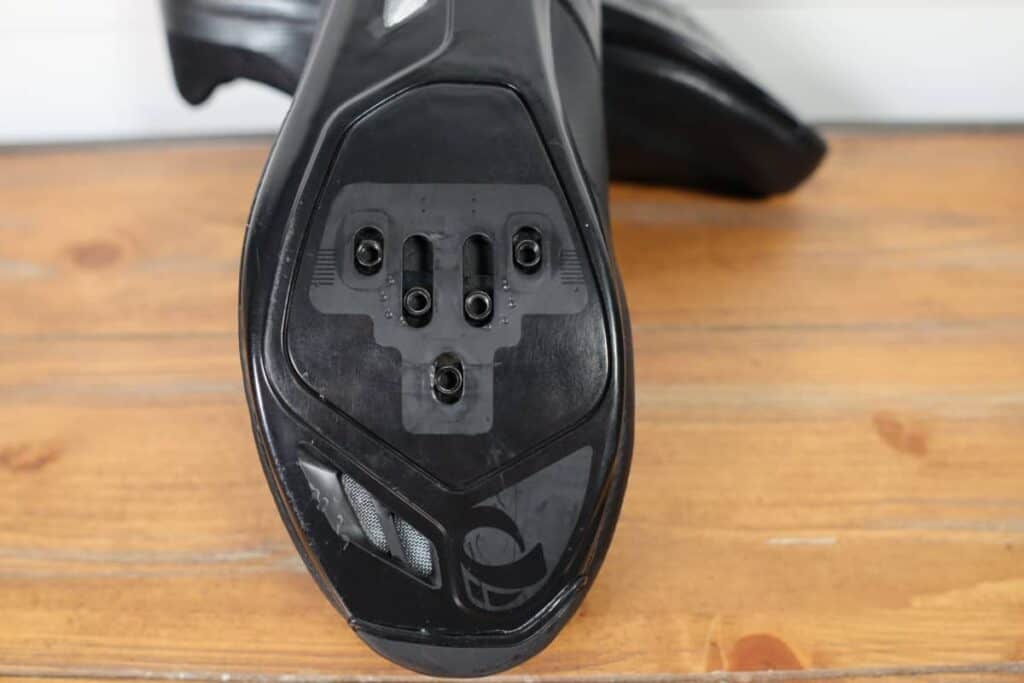 The PEARl iZUMi spin shoe is compatible with both 2 and 3-bolt cleats. This means that this particular spin shoe will work with both of the most commonly used cleats, the SPD cleat, and the Delta cleat. 
The PEARL  iZUMi Quest Road shoe is compatible with the Peloton Bike cleats, which is the Delta cleat!
Comfort/Secure
The PEARL iZUMi cycling shoe is hands down the most comfortable spin shoe that I have used to date. The entire process of putting the shoe on, clipping in, riding, clipping out, walking, and taking the shoe off is all pleasurable and I have zero gripes! In the saddle or out of the saddle I feel supported yet still comfortable. If I need to make a small adjustment while riding ( which is rare with this beautiful shoe) then it's super simple to do, with no hassle involved. 
My toes are not pinched, nothing is digging into my foot, I'm able to tighten the shoe so my heel has no lift and my foot feels supported, is there anything more one could ask for…I think not. Do yourself a favor and pick up this spin shoe, you will surely not be disappointed!
Why Trust Us?
My husband has trained and competed in Ironman and from experience knows what to look for in a cycling shoe that delivers performance as well as is comfortable for a long ride.
I on the other hand am a Peloton junkie and am obsessed with riding nearly every day. I even have a 60 day streak where I took a Peloton spin class every day for 60 days before giving myself a day off.  With the amount of ride time I put on our Peloton, having a secure and comfortable spin shoe is integral so I can get up each morning and get to the grind without any discomfort. 
Final Thoughts
Buy this spin shoe, the end! I genuinely hope you found this review insightful and that it gave you the confidence to make an informed choice. We feel strongly that whether you are a new cyclist, or an OG rider that this shoe will put a smile on your face during your sweat session. Happy riding!