A Peloton Bike has been hailed as a safer and more flexible way to exercise. Using a Peloton Bike has become a popular way to exercise from the comfort of your home. It is especially important to take care of your health while pregnant. 
The Peloton Bike is a low-impact form of exercise that is safe and encouraged for pregnant women to use. Peloton has launched a series of prenatal classes. They were launched and run by Robin Arzón, a pregnant Peloton instructor who wanted to give women cycling classes to focus on their health.
Using a Peloton Bike is easy and safe to use. The classes are interactive and an exciting way to get your daily dose of exercise in and you will be joining a society of pregnant women who are taking the classes with you. The instructors can guide you during the live classes if you have any concerns during your session. 
Is The Peloton Bike or any Spin Bike Safe To Use While Pregnant?
The American College of Obstetricians and Gynecologists suggests that a pregnant woman should be getting 150 minutes of exercise throughout the week.
A Peloton Bike is perfectly safe to use during pregnancy; however, it is always best to first consult your doctor. It is also important to listen to your body. Your body will experience a vast number of changes during pregnancy. 
You may experience discomfort on some days more than others, and it's important to monitor your heart rate and stop if you are experiencing any pain. It is equally important to rest and not push your body past its healthy limits. 
Cycling is a low-impact exercise and a recommended exercise for people who have weak joints, are recovering from an injury, or are pregnant. The prenatal classes are specifically designed for pregnant women and include a variety of intensities to ensure that you aren't pushed past a level you are comfortable with. 
Robin Arzón worked alongside two qualified doctors to design classes aimed to ensure that women can safely use the Peloton Bike while pregnant. Heather Jeffcoat, a Peloton user and physical therapist supports these classes and has stated that it is an excellent move by Peloton and Arzón. 
Arzón herself instructed Peloton classes right up to her final few weeks of pregnancy. Although everyone's pregnancies may be different, the classes are safe under the guidance of a doctor. 
Remembering that you will be capable of higher intensities on some days and need to rest or take it easier on others is important. Listening to your body ensures that you do not unnecessarily strain it. 
Overtraining is harmful to your body, and this is especially important to keep in mind when you are pregnant. 
Training on a Peloton Bike while pregnant is safer than alternative exercises, such as cycling on the road or running. Your risk of injury is less likely as long as you are cleared to exercise and listen to your body while you are exercising. 
It is also important to take into account how healthy your pregnancy is. In uncomplicated pregnancies, it is easier to maintain a regular exercise routine. Women with pre-eclampsia or low-lying placenta are often told to avoid exercising entirely. 
There are exceptions, and some health conditions will make using the Peloton Bike unsafe. However, it would help if you regularly used the Peloton Bike for a healthier pregnancy. It could be the healthiest thing for your pregnancy to maintain and increase your fitness. 
The Peloton Bike is designed to be a safer form of exercise and is made from high-quality, sturdy materials such as carbon steel and aluminum. It is less likely to get injured on a Peloton while training from home. 
Research has proved that mothers who continued a healthy level of exercise and maintained, or even increased, their fitness levels during pregnancy were less likely to have complicated births and recovery periods. They were further less likely to develop gestational diabetes, pre-eclampsia, and other pregnancy-related complications. 
Babies born to fit and healthy mothers were also less likely to experience health complications during their birth and in their life. 
Using a Peloton Bike is one of the best things you can do for yourself and your baby if you are cleared to do so by your doctor. 
Benefits Of Using A Spin Bike While Pregnant 
Using a Peloton Bike is a safe way to exercise and maintain your health. It is a low-impact exercise that will strengthen your joints. Relaxin – a hormone released while the body prepares for labor – loosens a pregnant woman's joints. 
The increase of relaxin puts her at a higher risk of injury, and she must find healthy exercises to remain fit. A woman's effort and energy during childbirth have been compared to running a marathon. Focusing on getting 150 minutes of exercise a week will better prepare your body for birth and make your postpartum recovery period easier. 
Talking to your doctor or physical therapist is important to ensure that it is safe and healthy for you to partake in the classes on Peloton. It is especially recommended that you ride with Peloton classes if you were active before falling pregnant. 
The Peloton pre and post-natal classes are strictly regulated, and there are different intensities available to ensure that everyone can safely ride. Instructors are available to assist you throughout your live-streamed classes, and the classes were designed under the guidance of physical therapists and doctors. 
The classes further focus on strength and resistance-based training to improve the endurance and strength of vital muscles and joints to help one sustain a healthy pregnancy and recovery period. 
The Peloton monthly subscription gives you access to 14 live-streamed classes a day, including the prenatal series. There are further videos available on-demand if you can't join a live-streamed class. 
You will be able to track the time and distance which will help you keep track of your workouts throughout your pregnancy. Here's how accurate the Peloton is.
Prenatal Classes Offered By Peloton
Arzón hosts a range of 20-minute ride classes. She additionally hosts a range of strength classes to choose from, such as: 
20-minute HIIT Ride 
20-minute Recovery Ride 
10-minute Prenatal Core Basics 
15-minute Prenatal Glutes and Length Strength 
20-minute Prenatal Basics 
5-minute Core Strength 
Peloton further has a range of prenatal yoga classes offered by Kristin McGee and Anna Greenberg. Namely: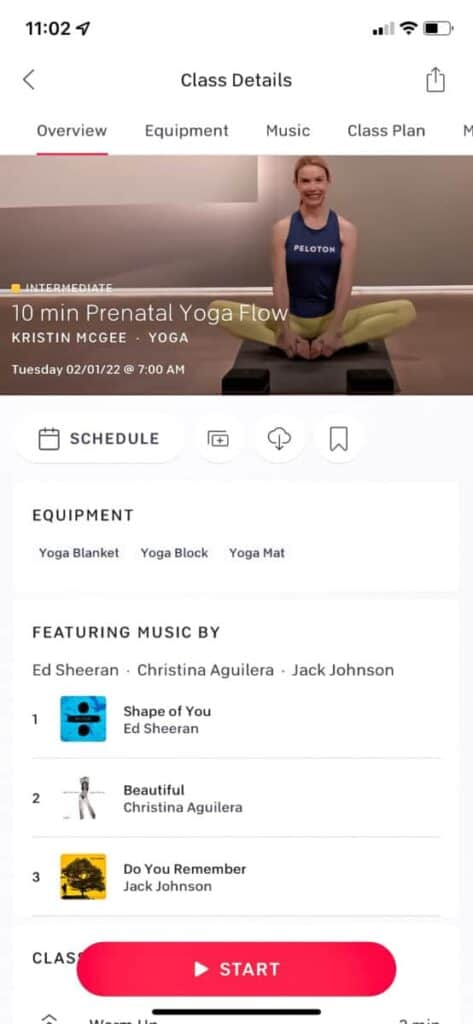 10-minute Prenatal Flow
30-minute Prenatal Focus Flow
15-minute Prenatal Restorative Yoga
20-minute Prenatal Slow Flow
The intensity you should choose depends on your fitness levels before conception. 
As a Peloton Bike is safely inside, it lowers the risk of road accident injuries due to falling off of a bike, hitting bumps in the road, and allowing you to exercise at your convenience and no matter what the weather is outside. 
Using a Peloton Bike is convenient and safe to use and allows you to exercise at your leisure without the added pressure of commuting to a gym or spin class. 
You can virtually connect with family and friends, making the classes more enjoyable, and instructors are available to assist you during your live-streamed classes. 
Regularly exercising increases the health of your heart, and the Peloton prenatal classes ensure that both strength and cardiovascular exercises are incorporated for a healthy balance of exercise to ensure you are doing the best thing for your body. 
Final Thoughts
Not only is it okay to use a Peloton while pregnant, but it is also encouraged. Pregnant woman need to maintain their fitness and exercise regularly to ensure their pregnancy is healthy. The fitter and stronger a pregnant woman can get, the easier her labor and recovery will be. 
A postpartum mother will be required to lift and carry things, and her body will be under immense strain while recovering and looking after a newborn. Exercising safely and healthily is highly recommended.