Using numerous devices to track data is probably second nature to anyone who derives inspiration from looking at health metrics. As a result, I can't help but connect as many fitness apps to my apple watch as possible to track my daily workouts. That said, you may be wondering how to connect your apple watch to your Peloton.
You can connect your Apple watch directly when using Peloton Bike+ by moving your Apple Watch close to the link as the pop-up appears at the top of the screen before you tap "start." Furthermore, you may also link to other peloton equipment by using apps like BlueHeart and HeatCast, to name a few.
While your smartwatch can measure your activity and the numbers on your cardio equipment might motivate you to go harder, synchronizing the two throughout your exercise gives you the most accurate picture of your overall fitness and performance. But how simple is it to connect to Peloton equipment? Let's find out.
Connecting To Peloton With Your Apple Watch
Peloton has a variety of products, some of which work well with the Apple Watch. For example, while the Peloton Bike+ performs best due to the integrated Apple GymKit offering, the Peloton Digital app – which does not require Peloton equipment – has an Apple Watch companion app. 
Furthermore, it allows you to use the heart rate monitor on your wrist for more accurate statistics when doing a workout through the app. However, using your Apple Watch for heart rate monitoring on the Bike, Tread, or Tread+ is possible with a workaround.
First, let's take a further look into how you can connect your apple watch to the Peloton Bike+. 
How To Connect Your Apple Watch To The Peloton Bike+
Fortunately, Apple's GymKit is integrated into Peloton's Bike+. So when you're ready to start a ride or workout, hold your GymKit-compatible Apple Watch up to the screen of the Bike+ when you're ready to pair them.
Once connected, the Bike+ will begin a workout on your Apple Watch and use the Watch's heart rate monitor to show your heart rate on the Bike+'s screen in real-time, assisting in calculating your Strive Score. 
When the ride is finished, the workout will automatically end on your Apple Watch, and you can find the post-workout details in both the Activity app on your iPhone and the Peloton Digital app and watch as you fill up those Apple rings!
Guide To Connecting Your Apple Watch To Your Peloton Bike+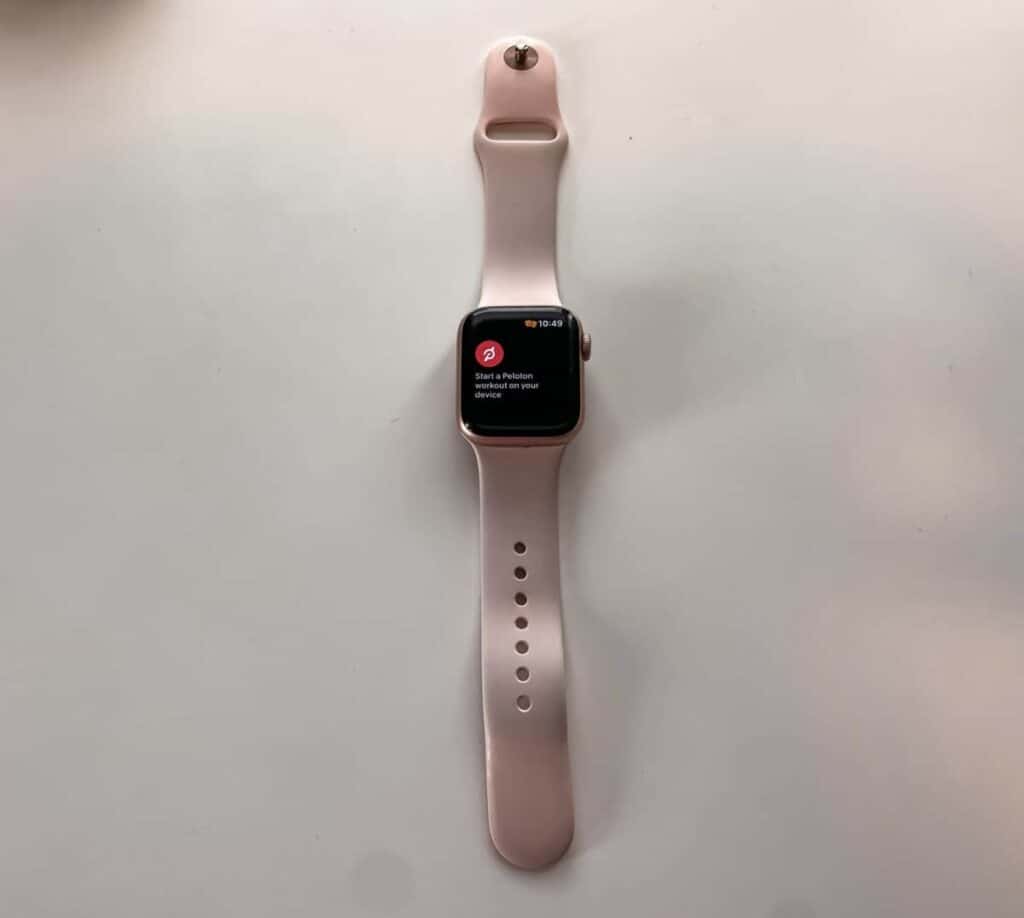 If you would like a step-by-step guide to connecting your Apple Watch to your Peloton Bike+, follow the steps below.
On your iPhone, launch the Apple Watch app.
At the bottom, click on the My Watch option.
Scroll down and go to the 'Workout' section.
Turn on 'Detect Gym Equipment.'
On your Peloton Bike+, select the preferred workout class.
Then click 'Start.'
A "confirmation page" will pop up before the class starts, and you will find the "Connect to Apple Watch" at the top of the screen. 
Place your Apple Watch up to the top of the screen near the "Connect to Apple Watch" tab, then tap on the "Connect" on your Apple Watch.
You may tap "Start" on your Pelton screen to begin your workout.
When the ride begins, your heart rate will appear on the left side of the screen if your Apple Watch is properly connected. If you're experiencing problems connecting or your Peloton Bike+ isn't pairing correctly with your Apple Watch, try restarting your Apple Watch or turning your Bike+ off and back on again, and repeat the steps.
How To Use Your Apple Watch On Other Peloton Equipment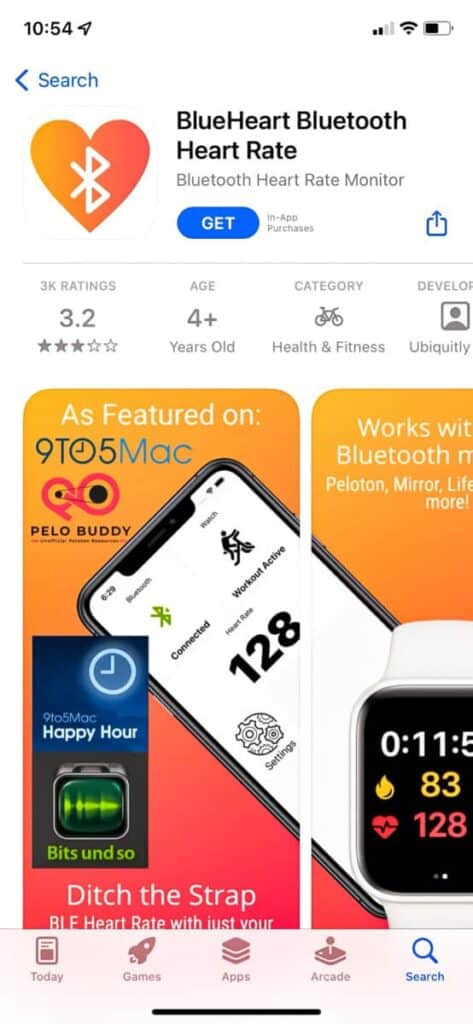 Not all the Peloton equipment, such as the original Peloton Bike, Tread, and Tread+, have the GymKit features included and would require alternative methods to pair with your Apple Watch. 
That said, using third-party apps such as BlueHeart, HeartCast, and ECHO Heart Rate are known options to getting you connected to Peloton. 
Furthermore, these apps can be downloaded onto your iPhone and paired with your Apple Watch to link with the original Peloton Bike, Tread, and Tread+. So, with those apps in mind, let's take a closer look into getting set up and connected.
Connecting With The BlueHeart App
Get BlueHeart for iOS here
Download BlueHeart and make sure your Watch and phone show the app.
Launch BlueHeart on your Apple Watch.
Select the type of activity you will do (Spin, Run, Row). Then, you'll be prompted to open BlueHeart on your phone.
Using your Apple iPhone, launch BlueHeart
Non your phone, a window should appear telling you to grab your water bottle—press start.
You'll see an advertisement if you haven't done the in-app upgrade. Just close it.
After that, you'll see a prompt requesting you connect to your equipment. Click "BlueHeart"
Open the Heart Rate monitor window on your Peloton Bike or Tread (You can see it in the workout preview window).
A device should appear after a few seconds. It will be called "BlueHeart" for most people, but it may also be the name of their phone.
Select Connect next to the new device.
You should now see a note that says you're connected and ready to go. As soon as you start your workout, your Apple Watch will begin collecting heart rate data!
Connecting With The HeartCast App
Get HeartCast For iOS here
Download HeartCast on both your iPhone and Apple Watch
Open HeartCast on your Apple Watch and iPhone and allow a few seconds for your Watch and your iPhone to sync your heart rate.
With HeartCast open on your Watch, tap "Start" to broadcast your heart rate over Bluetooth. It also instructs HeartCast on your iPhone to begin the Bluetooth pairing procedure.
Open the Heart Rate Monitor settings on your Peloton.
Select "HeartCast" from the list of available devices and click connect. On your fitness equipment, press refresh if you do not see HeartCast.
Click "Connect" and wait 10-15 seconds for the numbers to sync between your iPhone and Peloton.
Furthermore, until your heart rate is synchronized between your iPhone and your Peloton, HeartCast must be open and visible on your iPhone.
Fortunately, pairing your phone or HeartCast in the same manner as a Bluetooth speaker is not required. Instead, HeartCast will be discovered automatically in your Peloton's Heart Rate Monitor settings.
Connecting With The ECHO Heart Rate App
Get ECHO Heart Rate for iOS here
Download ECHO Heart Rate on both your iPhone and Apple Watch.
Open ECHO Heart Rate on your iPhone and select "Tap to start." When you do this, you should see "Waiting to connect on your phone."
Select the workout you would like to do on the Peloton screen and select "Start."
Select the "Heart rate monitor" tab on your Peloton screen when you get to the preview screen before initiating the workout.
A Bluetooth window will pop up, and under available devices, you will find "ECHO: (With your iPhones name)." Now select "Connect on the right-hand side."
When it asks you to pair, you do not need to pair the device, and you can select "Cancel" on the Peloton screen.
Now you should be connected on the Peloton screen, on your iPhone, and on your Apple Watch, ready to start your workout!
Conclusion
It's always great to stay connected to results by keeping track of your workouts and seeing the achievements and rewards build up. With the guide mentioned above to connecting your Apple Watch to your Pelton, you can now set up your favorite workout, keep track of your heart and be more in control.