The Peloton comes with two 10 Watt speakers, but sometimes you may want a little more focus, or perhaps you don't want to disturb another loved one in the next room. Thus, you choose to use your earphones and, in this case, your AirPods. How do you connect them?
Connect your AirPods to your Peloton via Bluetooth by pairing your AirPods with the bike. On the settings menu on your Peloton, select the Bluetooth option. Pair your AirPods by pressing and holding the button on them till the LED flashes white. Then select them from the screen when they appear. 
How to connect your AirPods and all other versions of them along with other Bluetooth headphones and Beats earphones to your Peloton? Is there something cool you can connect to your Peloton via Bluetooth besides earphones? Find out below. 
How To Connect Airpods To A Peloton
Connecting Apple Airpods, and that goes for all variants (Max, Pro, and version 3), is simple enough, and within a minute, you should be good to go. 
You will only need to pair your AirPods with the bike, and the steps for this are laid out for you in detail ahead. But let's first understand how you are able to do so because surely Apple and your Peloton don't go together, right?
Understanding A Peloton Bike
The Peloton screen is essentially a giant Android tablet running a version of Android OS (operating system). This goes for both Peloton Bikes (the standard and bike+). Although they will run different versions of Android OS, the setup for the headphones will be the same. 
Luckily Android is compatible with almost anything due to it being open-source software, and that is why Peloton chose to use it for their equipment. 
How Do Peloton Bikes Connect Airpods?
The Peloton will use Bluetooth to connect wirelessly to devices that support this technology. Bluetooth is standard nowadays when one thinks of wireless portable devices. 
Typically Apple does not like working together with other products which are not Apple. Luckily, Bluetooth technology is universal and considered the standard, so Apple has to implement it. Luckily for you, this means you are able to connect your AirPods to your Peloton.
What About Other Bluetooth Headphones Like Beats?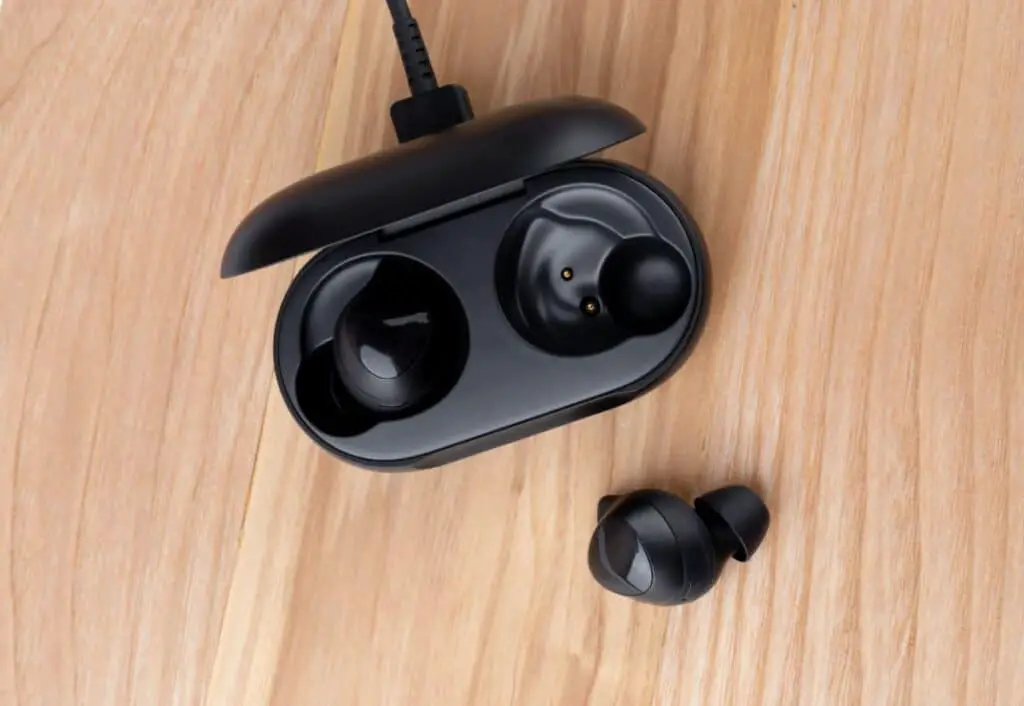 If you have other headphones or beats headphones/earphones (also made by Apple), you can also connect them via Bluetooth to your Peloton bike in the same manner as your AirPods. This process will be almost identical, and you will only need to know how to enable pairing on your specific headphones/earphones to achieve the same result. 
Step-By-Step How-To Connect Airpods To Peloton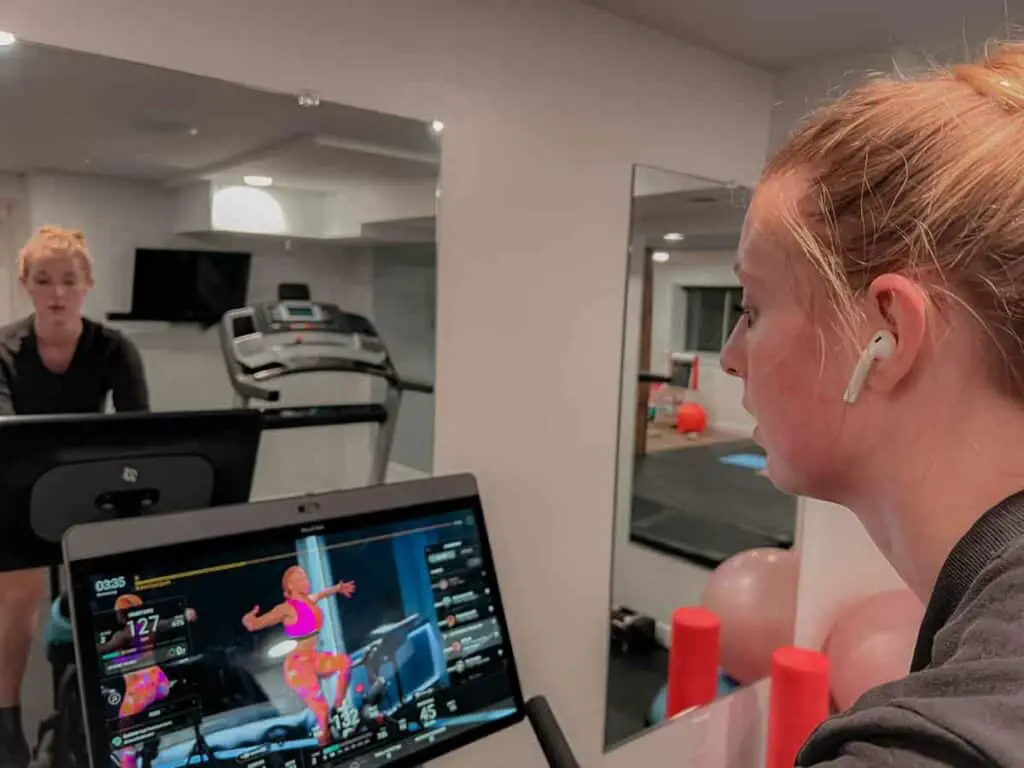 Here is a step-by-step guide on connecting your AirPods to a Peloton. In the tutorial, we will also cover how to connect other versions of AirPods and PowerBeats Pro.
Start by turning on your Peloton and booting to the main screen
In the right-hand corner of the screen, you will see the cog icon, select it
Next, select "Device Settings."
If you are not on the main screen, then select the three-dot icon located at the bottom right of the screen; this will also open up a menu, and again from here, you will need to select "Device Settings."
Options will appear in the "Device Settings" menu, and you will need to select the "Bluetooth" option
The bike will already be in pairing mode when you move into the Bluetooth menu
Now, if you are using AirPods or AirPods Pro, you will need to enable paring. To do this, press and hold the button on the back of the AirPods until the LED flashes white
If you are using AirPods Max, you will need to press and hold the noise control button 
If you are using PowerBeats Pro, you will need to press and hold the button located on the charging case
Now that both your earphones/headphones and the Peloton are in pairing mode, they should appear in the list of Bluetooth devices on the Peloton screen
Now, simply select your Airpods (or other earphones) from the list, and they will be paired automatically
Other Helpful Information For Using Airpods With A Peloton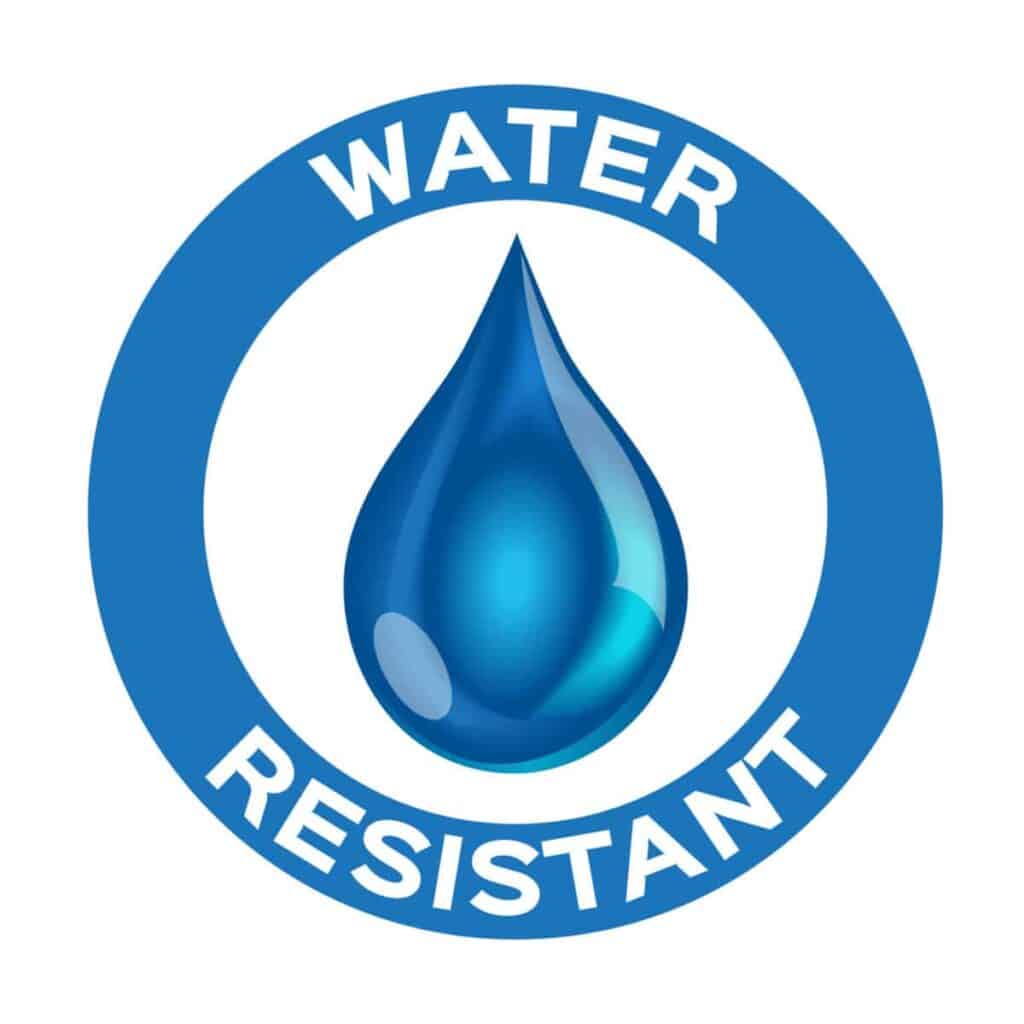 It is worth noting that depending on what version of Airpods you have, they may not be water-resistant. Only specific Airpods and versions of Beats are water-resistant, and if you intend to cycle often, your Airpods may become ruined in the long run. 
It is important to note that these headphones and earphones are NOT waterproof, only water-resistant. 
AirPod and Beats water-resistant models are;
AirPods Pro
AirPods Max
Beats PowerBeats
Beats PowerBeats Pro
Beats Studio Buds
Beats Fit Pro
Our Favorite Wireless Headphones!
Long story short, we like using AirPod Pro's. They are great for fitness, office, or general around the house use.
We wrote an article that includes our favorite headphones for the Peloton. Check it out here!
Can You Connect Any Other Bluetooth Devices To Peloton
Bluetooth technology does not only allow you to connect wireless headphones or earphones but anything that can utilize that technology, and in fact, there is something spectacular that you are able to connect to your Peloton via Bluetooth.
Zwift is an MMO (massive multiplayer online) game that allows real-world cyclists to ride and race against each other in online environments. Zwift is compatible with stationary trainers that you mount to a standard bicycle. 
Now, as you traverse through the online landscape, Zwift will automatically change your resistance to compensate for the terrain, making you feel like you are really riding in that environment. 
The problem comes in if Peloton users want to use Zwift. If they try using it, they will find that the bike's resistance will remain unaffected. 
However, there is a device that you are able to purchase that slips over your Peloton's resistance knob and connects to the bike via Bluetooth. This device adjusts the resistance for Zwift automatically and is called the Shift Smart Trainer. 
If you are looking for a little something extra from your Peloton bike and would revel in the chance to leap onto the Zwift platform, then this is something you might want to take a look at. 
Conclusion
We discovered that connecting your AirPods to a Peloton is pretty simple, both the standard bike and the bike+. Due to Bluetooth technology, this feat is made simple and can be set up in literally less than a minute. 
No matter what type of headphones or earphones you have or who the manufacturer is, Bluetooth is a standard wireless technology that all companies use. Hence, you should not have a problem connecting your AirPods or any other wireless headphones/earphones to your Peloton.