ou have just received your Peloton tread or bike, and you are setting it up in the designated area when you discover that the power socket is too far away from the tread or bike to connect the power – but can you plug your Peloton into an extension cord?
As a general rule, a Peloton can be plugged into an extension cord. The type of extension cord needed and whether a dedicated circuit is necessary will depend on which Peloton product you have, as the power requirements for the tread and the bike are different.
Whether you are running or cycling on your Peloton, you need to understand how to safely add extension cords to your device so that there is no risk of damage or burnout to the components- let's find out how.
Can a Peloton Bike or Tread be plugged into an extension cord?
Either the Peloton Bike or Tread can use an extension cord if it is rated for high enough amperage.
The Bike uses far less amps than the tread so it will use a smaller gage wire vs the tread needing a thicker gage extension cord.
Peloton Power Requirements – Bike Vs. Tread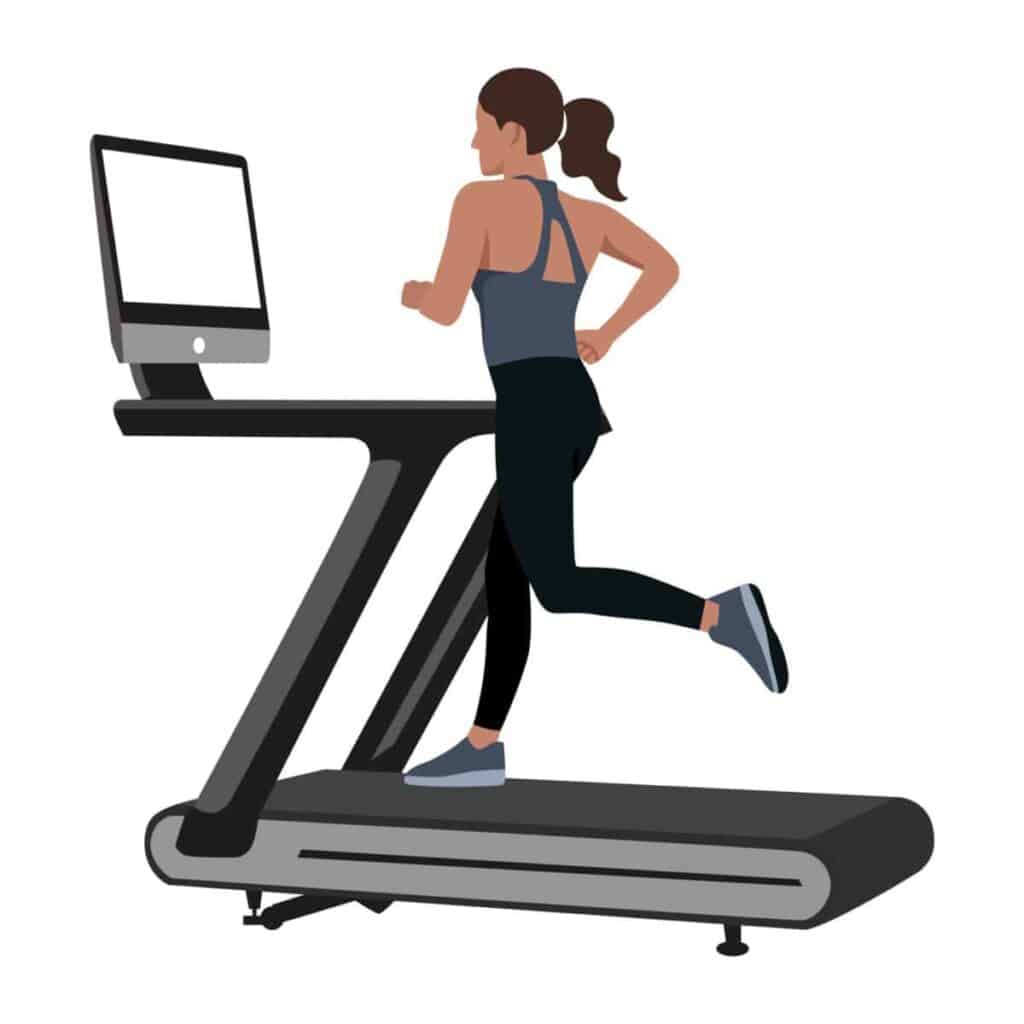 The Peloton treadmill uses more power and has a higher amperage than the bike, and this is due to the motor size required to drive the treadmill. The bike has a much lower power rating as the current needed is less to operate the bike.
The treadmill is rated at 110V-240V – depending on where you are in the world – and it has a 12A rating which means it draws a lot more power and needs more current to operate.
The Peloton bike is also rated at 110V-240v but has a lower amperage of just 3.25A, which is almost 4 times less than the tread, and this is because the power components in the bike require much less current run, even with the monitor.
What Type Of Power Socket Should I Plug My Peloton Into?
With any device with high amperage to operate, you should always use a 120V three-pin socket that is properly grounded. This ensures that the electricity will trip as a safety measure should the unit overheat or develop a short circuit.
Peloton themselves are advising that GFCI and AFCI sockets are not suitable as they will trip due to the electrical draw, and while this is not dangerous, it is an inconvenience. 
The AFCI (Arc Fault Circuit Interruptor) stops fires due to electrical arcs, and the GFCI (Ground Fault Circuit Interruptor) prevents electrocution from a current leak on the circuit.
Not having earth leakage protection can risk electrocution or fire as the wires get hotter due to an electrical fault. Even a 3.25A current can be dangerous, so all electrical connections and sockets should be earthed for safety.
Should I Use a Surge Protected Power Socket?
If you are in an area that is prone to surges, then investing in a surge protected multi-plug or socket is a good idea, and even if you don't suffer surges, it's still a good idea to use one as to whether you buy a Peloton bike or treadmill, you are still spending a substantial amount of money, and in most cases, damage to equipment from surges is not generally covered under warranty. 
Here is the surge-protected socket that we highly recommend for the Peloton products. 
---
---
How Long Can The Extension Cord Be For The Peloton?
According to Peloton themselves, their units should always be plugged directly into the socket, and no extension cords should be used, but this is not always possible, and provided you use proper quality extension cords that provide the same capacity as the wall socket, there should be no issues using one.
Ideally, the shorter, the better, as the shorter extension cord is less likely to heat up; the longer the cord, the more resistance occurs as the current flows, leading to greater current draw as the machine speed increases.
So running at low speed on the treadmill uses less current draw than running at full tilt, and the more current needed, the hotter (potentially) the supply cables will become.
When planning where to put your Peloton, you must consider where you will plug it in, so you don't have to use an extension cord wherever possible.
Do I Need A Dedicated Circuit For My Peloton?
A dedicated circuit is solely allocated to the plug that the Peloton will be using and is often created on the breaker panel in your home. 
Why is this important? 
Any appliance with a high current rating of about 10A or more should preferably be used on its circuit with a breaker or fuse rated above the device's maximum current rating.
This will ensure that the unit can operate safely at its maximum power level without risking a trip-out or burnout on the breaker, and if anything should go awry, the circuit breaker will trip and prevent any damage to the unit and the wiring.
What Circuit Breaker Size Should I Use For The Peloton Bike?
For the bike, with a much lower amperage rating of just 3,25A, you can safely use a standard plug circuit with some lights connected or plugs that provide power to appliances that don't draw much power, like LED TVs, Wifi Routers, etc.
But it would not be advisable to plug your Peloton bike into the same circuit as your fridge unless the breaker on that circuit is a high amperage one. For example, if your fridge is rated at 10A and your Peloton bike is at 3,25A, you have almost 14A on that circuit.
If the breaker rates at 15A, it may be better to look at another circuit, but if the breaker is 20A or 25A, it will be completely appropriate to use.
What Circuit Breaker Should I Have For The Tread?
The Peloton treadmill is rated at 12A, so you should have this on a dedicated circuit with a breaker of at least 15A -20A to run the treadmill at maximum without any risk of drawing too much power and having the circuit trip out.
What Extension Cord Should I Use For The Peloton?
Wherever possible, buy the highest current rated cord you can and check on the extension cord packaging for the maximum current rating. A good-quality extension cord will use thicker cable and have current ratings from 10A or higher.
If you are buying an extension cord for the bike, look for a cord rating of at least 5A or better, but 10A or higher is ideal.
For the treadmill, look for an extension cord rated for at least 15A or higher, and even if it costs a little more, the price won't be prohibitive, and the peace of mind will be worth it.
Here is the extension cord for the bike that we recommend. It does come in multiple sizes. (remember that shorter is better)
Here is the extension cord for the Tread that we suggest.
Conclusion 
While the manufacturer of Peloton may not recommend using an extension cord, following the simple guidelines regarding the rated current capacity for the cord and using a surge protection unit will allow you to operate your Peloton trainer safely.