Getting the right size shoe, especially when you need them for exercise, can be daunting. Wearing the incorrect size shoe can cause your feet to blister, discomfort, and pain. Cycling shoes, namely Peloton shoes, are designed a tad different from typical trainers, so let's see if they are true to size. 
Peloton shoes are manufactured to standard International sizes (both US and UK). However, they are cycling shoes which means they are more rigid and don't give way to your feet. This means that if your feet are considered wide, your standard size might be too tight, and you will need to size up. 
What do you need to know to understand if your Peloton shoes are fitting you correctly and what to consider in terms of your feet size and width? Also, how are Peloton shoes designed, and why do some ppl find them too tight? Read on to find out. 
Are Peloton Shoes True To Size?
Everybody is unique in that the shape of their feet is almost never identical in terms of size and shape. Hence, to accommodate everyone, there are different shoe sizes. Luckily Peloton shoes come in standard sizes that are recognized the world over, and for the most part, based on many reviews, the shoes do seem to be true to size. 
However, it has been noted that they might be a tight fit if your feet are a little wide. Why is that? Well, It would help if you understood a little bit about cycling shoes. Typically, they are made of harder material and are more robust than other shoes. If you have ever held a pair of cycling shoes, then you will know what we are talking about. They are really solid and unable to bend and flex like other trainers. 
Due to their rigidity and being made to exact size specifications, there is no "play" in them with regards to individuals who have wider feet. 
What Sizes Do Peloton Shoes Come In?
Peloton shoes come in the standard sizes for men and women. Additionally, these sizes can be applied to children. For men, the size range in US measurements is between 40 and 48. The UK equivalent for these sizes would be between size 7 and size 13.5. 
Women's US sizes range between 36 and 43, and the UK equivalent sizes for these are between size 5 and size 12. 
When purchasing your Peloton shoes, consider that a women's size 10 is different from a man's size 10; otherwise, you will be left with a pair of Peloton shoes that don't fit. We have detailed a chart below to make things easier to understand.  
---
Peloton Shoe Size Chart For Both Men And Woman US And UK 
| | | | |
| --- | --- | --- | --- |
| US Men's Peloton Size | UK Men's Peloton Size Equivalent | US Women's Peloton Size | UK Women's Peloton Size Equivalent |
| 40 | Size 7 | 36 | Size 5 |
| 41 | Size 8 | 37 | Size 6 |
| 42 | Size 9 | 38 | Size 7 |
| 43 | Size 10 | 39 | Size 8 |
| 44 | Size 10.5 | 40 | Size 9 |
| 45 | Size 11 | 41 | Size 10 |
| 46 | Size 12 | 42 | Size 11 |
| 47 | Size 13 | 43 | Size 12 |
| 48 | Size 13.5 | | |
---
How To Tell If Your Peleton Shoes Fit Correctly
There are a couple of factors you will need to consider when taking into consideration your Peloton shoes that are true to size and how your feet fit in them. The elements are namely the length and width of the shoe and your feet.
Peloton Shoe Length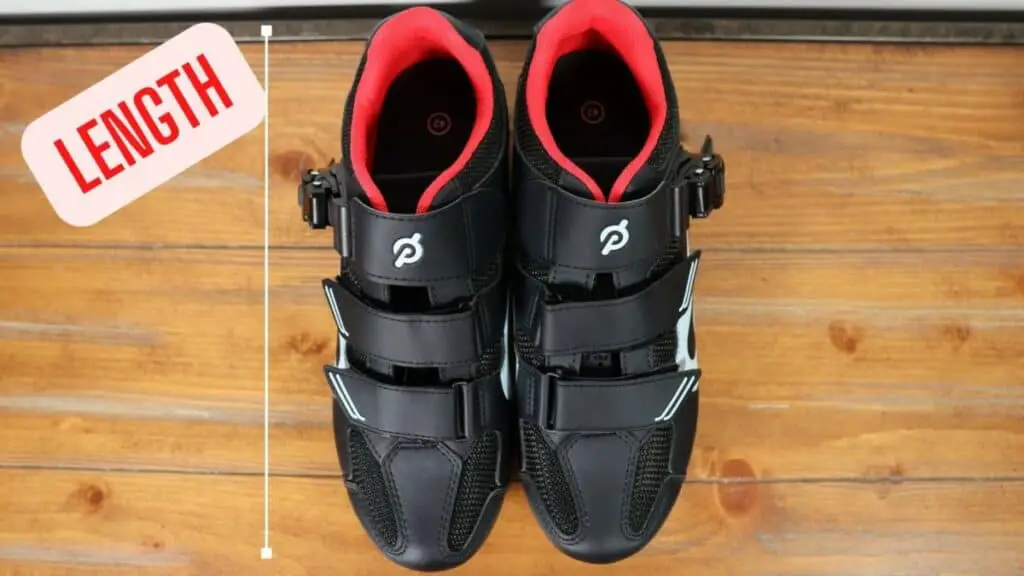 Unlike running trainers that need extra space in the front for your toes because when you run, the rocking movement of your feet results in a rolling motion pushing your toes forward to a degree, Peloton shoes (or other cycling shoes) do not need to do this. 
It will help if you remember that your feet are stationary in your Peloton shoes, and the motion of movement (the pushing and pulling) comes from your legs. Thus, your feet do not tend to roll forward. Inexperienced cyclists might ride with their toes pointing down and feel a pinch because of it, but this is an incorrect technique and will gradually work itself over time with experience and understanding of how to cycle correctly. 
Because there should be no movement with your feet when cycling, a few millimeters between your toes and the tip of your Peloton shoes will be more than sufficient. 
Peloton Shoe Width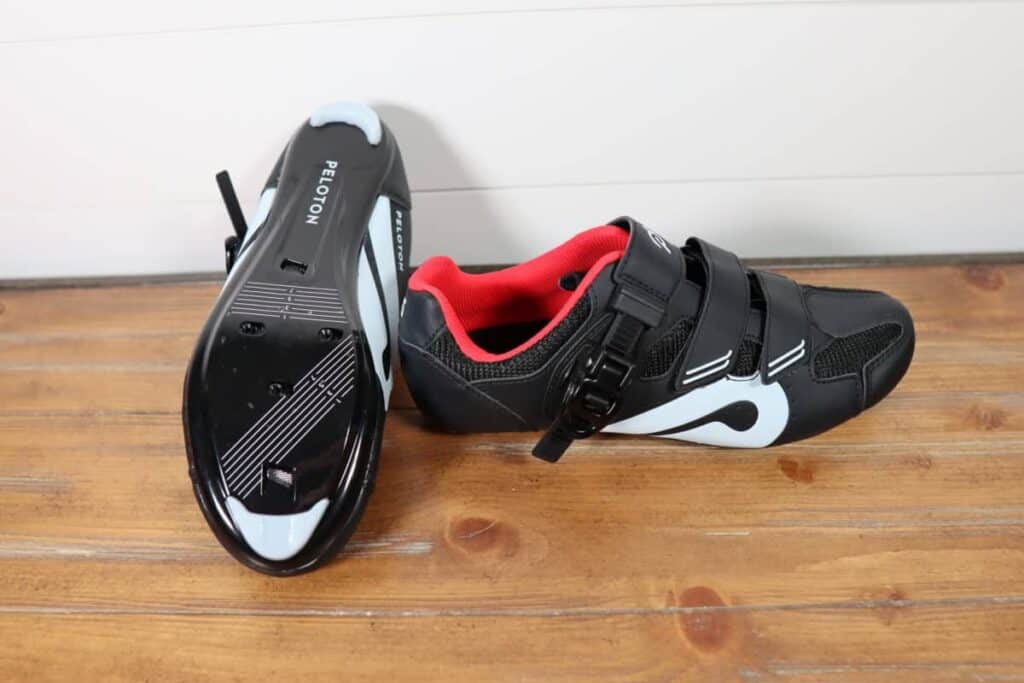 The width refers to the sides of your shoes and the widest part of your feet. Depending on the shape and size of your feet, the maximum width can either be located at the base of your toes (the big and pinky toes) or at the tip of your toes when they are spread out. 
As we said, due to the nature of how cycling shoes (Peloton shoes) are designed, they are not as flexible as other exercise shoes, and if you have wide feet, then your typical shoe size in a Peloton size will be correct, but there will be no play in the width of the shoe which may cause a little discomfort. What should you do if this occurs? Let's discuss that next. 
Should I Get A Larger Size Peloton Shoe Size (Size Up)?
You should only size up your cycling shoes if they are too tight when you try them on. This means if they are tight in terms of width (on the side of your feet) and if they are tight in the toe area. 
Unlike regular shoes or other trainers, cycling shoes will not wear in and give way over time, so if you find that the Peloton shoes are too tight, you should size up and get a bigger size. 
Should I Get A Smaller Peloton Shoe Size (Size Down)?
Depending on the size and width of your feet when you try on Peloton shoes, and if there is quite a bit of room and play in them, it would be beneficial to try a smaller size. 
This is because if the shoes are too loose when you cycle, they may rub against the sides or front of the foot causing blisters. 
What About Half Sizes In Peloton Shoes?
Many individuals do not take a straight size but rather are in-between and take half sizes. Many shoe manufacturers account for this, but alas, Peloton only has regular sizes. 
Therefore, if you take a size and a half in a shoe, it is better to size up your Peloton shoes. For example, if you take a size 11.5, it would be preferable to take a 12; otherwise, you will definitely find them too tight, which will result in discomfort and pain. 
What Spin Shoe Is A Great Alternative If The Peloton Shoes Is Not A Suitable Choice For You?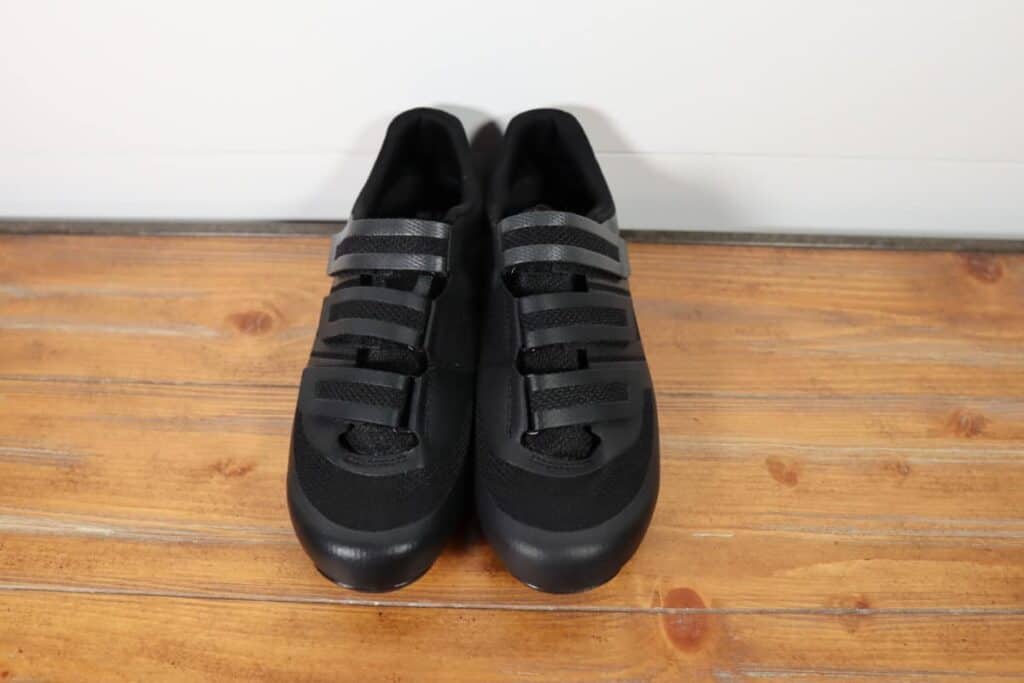 If you find that the Peloton shoes do not work for you due to your feet being too wide or the shoe being too stiff then I have a solution for you. I have several pairs of spin shoes that i have been testing out and because my feet lean on the wider side i find that the Peloton spin shoes are pretty uncomfortable. 
These spin shoes have been a lifesaver for those of us with wider feet! I LOVE them! They are at a great price point, have triple velcro adjustments, work great for men and women, and can be worn for long periods of time with no discomfort!
Conclusion
Peloton shoes are designed and manufactured true to size, but you have to consider the fact that they are cycling shoes. Cycling shoes are made more rigid and stiff compared to other shoes and don't have any wiggle room for your feet. Additionally, they don't wear in over time. 
Hence, if your feet are wide, you may find that purchasing your standard size in Peloton shoes is a little uncomfortable, and it would be better to get a bigger size. The same goes for individuals who take a half-size shoe. 
Remember that cycling shoes don't need that much room for your feet because cycling is not like running, and your feet don't need that much room to move.