The gym business suffered a severe bout of COVID influenza. This breathed life into home exercise, as quarantined couch potatoes sought ways to combat boredom and stay-at-home calories. A catalyst for this disruption is the indoor exercise bike or spin bike with a screen.
The best exercise bikes with screens use different design elements to create a sticky user experience. Some offer a game-like biking experience with streamed content, community, and libraries of on-demand routines. Others create arresting scenery—minimalist bikes screen real-time performance data.
There are several contours to the ideal bike, the visual display being just one. We'll consider what to look for in a spin bike with a screen.
What To Look For In An Exercise Bike With Screen
An exercise bike with a screen delivers a total experience, characterized by five key factors:
1. The Exercise Bike Screen
The screen is the portal out of your basement into the world of exercise. There are three variations to the bike screen:
Minimal: Some bikes feature basic Liquid Crystal Display (LCD), providing key performance metrics. Such displays have no aesthetic appeal, but the correct blend of performance metrics delivered in real-time can hold the attention of an active user.
Built-In: High-end machines sport wide built-in touchscreen displays. These give the workouts a gamer flavor by connecting to a community of users, simulating exercise environments, and streaming entertainment.
Modular: Some bikes do not feature a built-in screen but have a modular design that allows the user to substitute his or her smart device.
The three options can also occur in combination.
2. The Exercise Bike Software
The software determines the range and ease of use and is the conduit through which content is delivered. This content includes live classes and exercise libraries accessible on an on-demand basis.
The software also affects the machine's interoperability, deciding whether it can be used with heart rate monitors, wearables, wireless connectivity, and other third-party apps.
3. The Exercise Bike's Frame
At the bottom, an exercise bike is a physical machine that works by taking a thorough beating. The tradeoff between durability and ease of use becomes apparent. Also important are:
Weight Load: The extensibility of the seat and handlebars and the overall size of the frame determine whether very tall people can use the bike comfortably or not. The maximum weight load determines its accessibility to the unskinny.
Size: These bikes are designed to fit into homes, where space may come at a premium.
4. The Exercise Bike's Motion System
Elements of the flywheel system to look out for include:
Noise: This is a self-evident part of the experience, affecting not just the user but whoever else shares the home.
Resistance: The range of resistance affects the variety of exercises supported.
Pedals: Pedal design affects what kind of footwear can be used with the bike. One-sided pedals may be harder for beginner and intermediate users to manage.
5. The Exercise Bike's Overall User Experience
Unquantifiable aspects that differ between users come into play. Be mindful of the things you need a bike to do for you, and get a sense of whether the bike is aiming in that regard.
The Best Exercise Bikes With a Screen 
Below we review our pick of the best exercise bikes with a screen. This selection is cognisant of the features listed above and should not be interpreted as a ranking, although we lead with the industry leader's flagship. The list will give a flavor of the breadth of choice.
If you are like me and worry that no spin bike will ever live up to the Peloton spin bike…I want you to remember that a lot of what we hear is hype! There are multiple (several) spin bikes that are not Peloton that you can love just as much, and often for a fraction of the cost! If you are looking for the perfect alternative I hope this this post can be helpful for you!
The Best Exercise Bikes With a Screen That are Subscription Based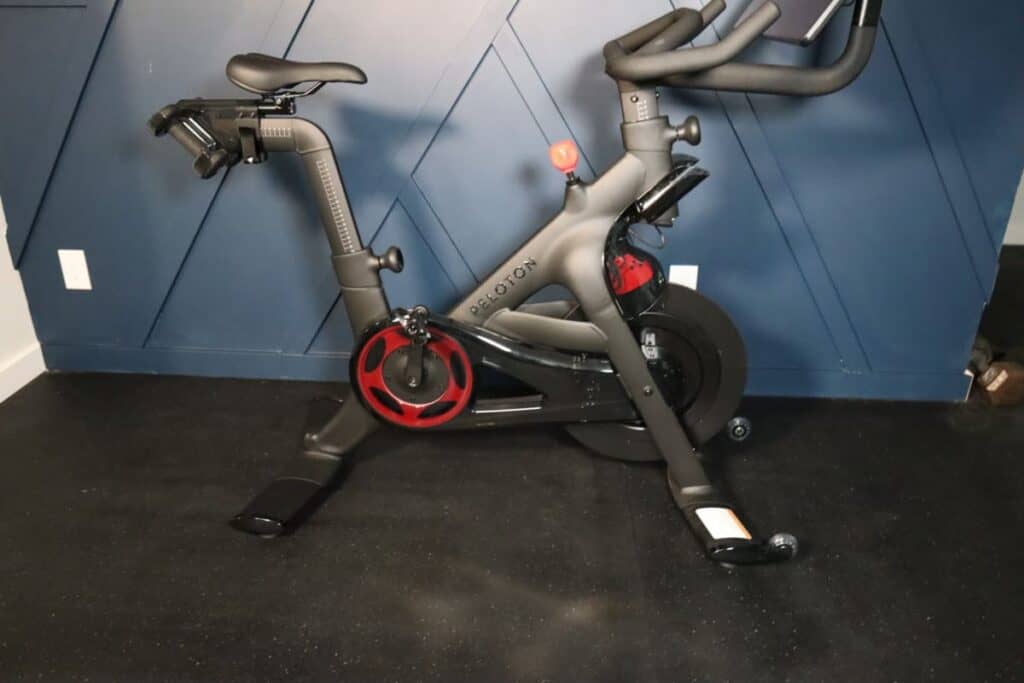 Bike+ is an upgrade to Peloton's industry game-changer. It features a 23.8″ touchscreen (two inches wider than version 1) capable of 180° rotation left and right. The front-facing camera has a sharper resolution, and the sound system has been upgraded. The bike integrates with Apple GymKit, making interoperability with the Apple Watch.
The functionality has not been enhanced as much as the design. A subscription gives the user access to Peloton's live and on-demand classes, drawing on a library that runs into the thousands. A global network delivers lessons of instructors.
In addition to size, improvements to the screen include anti-smudge coating and reflection reduction. The wide-angle of rotation allows easy transition between on-bike and off-bike workouts, with instructions still viewable from a range of shape-shifting yoga positions.
In keeping with the generally dainty design of exercise bikes (see Bike #5 below for an exception), the tight design of the frame clashes on occasion with the width of the screen. On wide-angle rotations, the side of the screen brushes against the handles. A remedy is to keep the screen tilted down on rotation, but this is a distracting hack.
As with the standard version of the bike, a subscription allows access to content from the Peloton app on off-bike devices. This broadens the scope of application.
For more information check out their website here!
Continuing the plusses, MYXFitness has updated their popular MYX Plus fitness bike. The new version sports an inbuilt speed sensor, a 21.5in swiveling touchscreen, and a roomy stabilizing mat. Included accessories are weights and a yoga mat.
The Polar heart rate monitor has been retained from the first model. This monitoring allows custom workouts based upon personalized heart rate training zones. To this end, heart rate tracking is implemented through integration with the Apple Watch.
Major changes from the first iteration are the inclusion of sensors for tracking cadence, speed, and heart rate. MYXFitness now also offers two subscription-based fitness apps. These apps stream classes on the built-in tablet that comes with the MYX II Plus. The user can choose the standard MYXFitness app, as well as BeachBody On Demand and MYX_OPenfit, streaming a variety of live and on-demand workouts. The MYX membership is 39 dollars per month plus tax.
The bike profile has been slimmed down somewhat. The user presents to live classes via an 8-megapixel camera and takes in audio content through 20-watt speakers. The tablet's processing power has been ramped up to facilitate hitch-free streaming.
This bike offers a seemingly optimal blend between the "smart" functionality of a bike with a screen and the robust design of a traditional gym bike. A quibble is that the seat is a little too lacking in plushness. Following a trend in this class of bikes, dedicated shoes are not required. Although some see this as a plus, if you want the best workout then dedicated shoes with cleats will help to provide that, allowing you to exert more power into the pedal. 
Also, the MYX II Plus comes with 3 different dumbbells as well as one Kettlebell which is a great little bundle, you can also choose to purchase the weight rack for these weights for an additional cost if needed.
Check out the MYX II Plus here for additional information.
This bike is often compared to the Peloton, and clearly, Bowflex is trying to make something that competes at the level with differentiation. The main channel for this is JRNY, Velocore's subscription channel, which is 19.99 per month. We love this bike because it comes with the first year of JRNY for free and per month its significantly cheaper than competitors. 
This bike has a dynamic construction, supporting a range of exercises. It is durable enough to prevent shifting under the strain of high-speed spinning, with modest weight support on its 59.8″ x 24.1″ x 55.3″ frame—all in all, a sleek machine that packs power.
As with the smart bikes, there is a selection of workout routines and entertainment offerings. A key differentiating feature is that JRNY comes bundled with Netflix, Disney+, Amazon Prime Video, and Hulu. This vastly expands (and relaxes) the scope of on-bike activities. You can even use the Peloton app on this bike if that is preferred.
The on-demand videos supplement classes with standalone "destination rides." These allow the user to travel solo down virtual locations around the world in adventurous scenic tours.
Veloce sports a "learning mode," which ramps up the number of spinning positions and options, putting it ahead of other bikes in class. Leaning mode allows the bike to sway from side to side, simulating the swaying motion on a road bike brought about by wind and terrain. An inbuilt resistance knob allows the specification of one hundred resistance levels.
SoulCycle has carved a niche, recasting spinning as a fun activity rather than a serious workout. Its price range marks it as a premium pretender, and SoulCycle has packed a suite of features to match the posture.
The bike features a 21.5 touchscreen. The resolution is bright and clear, and the screen is responsive to the touch. Unlike some rivals, the screen is fixed. The dual-sided pedals support cleats – either SPD or Delta. SoulCycle sells Delta-cleated shoes.
Bringing on the fun, the "free ride" option disables workouts on the screen, switching instead to Disney+, Netflix, or Prime Video (for subscribers to these services.) In addition to the usual performance metrics, users are put through their paces by cycling to the beat of the music instead of dull cadence: Bluetooth heart rate monitors and Apple Airpods sync with ease. The SoulCycle app is 39.99 per month after a 7 day trial.
This bike is unusually giant-friendly, accommodating riders up to 6ft 10in and supporting body weight up to 350lb. The magnetic resistance is smooth, but the bike is not quite, generating a tolerable hum.
Overall, the exercise programs have been shaped to be of interest. A "sculpting" class features dumbbell-based muscle toning. Rides can be filtered by music genre, instructor, expertise level, and theme.
Check out the SoulCycle At-Home Bike here!
Stryde is a screen bike with opt-out pricing. As usual, users can subscribe to the Stryde app to get proprietary content. They might opt out and still receive content via third-party apps on the bike's 22 inch tablets. In-app, more than five hundred classes are offered.
The bike is built of powder-coated steel, with a durable frame guaranteed for up to five years. The pedals are dual-sided, supporting SPD clips as well as toe cages. In-depth instruction is delivered via the Stryde app, facilitated by a vast network of trainers spread across the country.
Given Stryde's opt-out option, streamed content also includes third-party fare, including Youtube and Netflix. The built-in tablet is Android-based, although unhelpfully, it does not include the Google Play Store, requiring unfamiliar direct downloads from third-party publishers. 
Stryde's tablet is powered by a MediaTek MT8167A processor. The touch screen has a resolution of 1080p and runs Android 8.1 with 16MB of storage space. A proprietary web browser, the Stryde app, and Netflix are preinstalled. Standard Android navigation icons apply.
The tablet runs ANT+ and Bluetooth 5.0 compatible, enabling heart rate monitoring and wireless wearables. Apple Airpods and Polar optical monitors are manipulable through the Settings menu. Currently, heart rate data is not displayed in the app, but this has been officially tagged for a future release.
Stryde is not preassembled, but delivery and installation are free. For more details on the Stryde bike check it out here!
This is a polished bike that packs a punch of features into a frame that sits well in the home. It features digital adjustment of resistance, quality built-in speakers, and stock-standard streaming classes.
There is Automatic Trainer Control which adjusts the bike's settings to the trainer's command. Also in is a wide range (-10% – 20%) of elevation levels. To the budget-sensitive athlete, these features aren't free.
Immediately apparent is the higher weight (350lb) and size tolerance of this bike. It is user-friendly – including assembly, and sold through flexible financing options. On the downside, the S22i does not support clipped shoes, which some users will prefer. Instead, standard pedal clips and toe cages are supported.
Streamed content is available on registering for iFit membership. On the wide side, a 22 rotating touch screen delivers the content. The usual performance metrics are included and graphed.
The iFit smorgasbord supplements spinning with yoga, meditation strength training, and high-intensity interval training. The S22i is not compatible with other fitness apps (a risky design choice, in this author's opinion), but it can be used offline in manual mode.
Given where NordicTrack has price-pitched this, expect the features and physical design to sophisticate in the next iterations as the bike tries to keep pace with its rivals.
Proform has designed a bike with the home in mind. The Pro 22 is especially compact, allowing it to fit unobtrusively into a larger variety of spaces. The bike connects via the iFit app, streamed through a 22 inch screen (not skimping on the viewport, in spite of the overall compactness philosophy).
iFit has been around for years and is considered a fan favorite by many. The Proform spin bike comes with a 30 day trial of iFit and after that the iFit membership costs 39 dollars per month.
The bike is portable, featuring transport wheels in addition to its small size. During classes, iFit instructors are able to automatically ratchet resistance across a range of twenty-four levels. The screen swivels for viewability from the floor.
An immediate tradeoff for compactness is the maximum load which is at 250 pounds, this is much smaller than for standard bikes – a class of workout machines that already excludes many, as pointed out elsewhere in this post.
The Pro 22 has a 10 year frame warranty, 2 year parts, and a 1 year labor warranty included.
Additional features of note are the water bottle and 3lb dumbbell pair. The seat and handlebars are adjustable – in the latter case, without interference with the screen. 
The Echelon EX-5s can be compared to the Peloton Bike. This bike comes with either a 22 or 10 inch display where you can use the Echelon live and on- demand classes for 35 dollars monthly, with a few cheaper options if you sign up for more long term plans. Each day there are 40 plus new workouts added to the platform, so the variety is pretty great!
The screen flips 180 degrees for cross training. The pedals are SPD compatible and have toe cages. The bike comes with two power ports to charge up your phone or tablet. There is also 32 levels of magnetic resistance to vary your workout intensity.
Product weight is 124 pounds and the load limit is 300 pounds. 
The reviews of the Echelon EX-5s are incredible and if you are in search of a Peloton Bike dupe we may have just found the perfect bike that will also save you cash upfront, as well as monthly!
Top Spin Bikes With A Tablet Holder To Use With Applications
Dmasun is a little-known Italian company, establishing a reputation for reliable equipment. The Indoor Cycling Bike minimally adds smart features to a standard spinning bike, resulting in a product that is at least adequate and accessibly priced.
The steel frame supports a 42lb flywheel, making it heavier than most other bikes in the class. This creates stability and the feeling of a smooth ride. The seat is unusually large and cushioned. It can be adjusted down and up as well as backward and forward.
Resistance levels are manually adjustable. This is a con for those grown accustomed to digital adjustment but a pro for controlling junkies. Because the adjustment mechanism is based on friction, not magnetism, resistance is adjustable on a continuous basis over an infinite range.
Performance metrics are tracked via an LCD monitor mounted to the front of the handlebars. Underneath the monitor is a cradle for holding a tablet or cell phone. Pulse sensors situated underneath the multi-grip handlebars allow for the monitoring of heart rate.
The bike is partly preassembled, making assembly pretty simple. Given that the cradled smart tablet does not integrate with the bike, some users will mind the minimal LCD screen, which displays only one metric at a time. Several users have mentioned that the seat needs regular readjustment.
Cyclase has targeted accessibility with a bike that's growing an increasing following. There are two groups drawn into the value proposition: lower-budget enthusiasts and bigger bikers.
The Cyclace is a no-frills bike with a built-in LCD screen to track vitals. It includes a timer, odometer, speedometer, and elevation tracking. These are all the metrics you need to calibrate your workout.
To complement its own display, the bike contains a tablet holder. This allows immediate integration to standalone exercise routines (decoupled from a particular bike.)
Standard exercise bikes are designed as sermons for the converted. They have light, compact frames that assume a modestly built athletic user. In an era where increasing numbers of regular folk are looking for fitness, this leads to repeated complaints of bikes that are undersized and fragile.
Cyclase has addressed this with a reinforced triangular frame that can support 330lbs. The longer adjustable seat support post accommodates bigger users. To complete the feature, the standard wedge seat is replaced with extra cushioning.
This stable indoor exercise bicycle provides quiet and safe cycling. It comes with thickened steel on its triangular frame, a 36lbs flywheel, and a rugged belt-driven system, supportive of a heavier load and functioning smoother than a chain. The rugged design makes for a more durable device.
This versatile Peloton alternative comes subscription-free yet compatible with a number of third-party biking apps (including Peloton's.) Minus the subscriptions, the user does not get the full community experience, but that far from limits the bike's appeal.
Diamondback achieves a premium-quality feel in the overall design of the bike. Intuitive levers make for easy adjustment of the handlebar and seat height. There's extra spring suspension in the seat, which can tip up and down. The dual-sided pedals accommodate a wider range of shoes, including caged road shoes.
Wider handlebars expand the range of mountable screens. This model does not have a built-in tablet but has an accomodating tablet holder. It offers blue-tooth connectivity with cycling apps and Garmin HR. The 5in backlit LCD screen displays cadence (steps per minute), calories burned, power output, distance, and time.
The 1260Sc features no built-in programs. The standard operation is to specify a goal in terms of power expended and then get the bike to offer cues as to variations in cadence and resistance to reach the goal. A high-range lever adjusts the resistance on the bike and the bike has 16 levels of resistance. 
This bike is slightly smaller than the Peloton (3in) but accommodates the same rider height with an adjustable seat shaft. The flywheel is designed to fit behind the bike, so sweat falls directly to the mat below.
1260 SC bike comes with a console that monitors time, distance, calories, RPM, load, and heart rate. 
This bike comes strikingly similar to the Peloton in terms of appearance, user experience, and app functionality. If you're looking for a Peloton substitute with minimal deviation, this is it.
Deviating from the template, Connect supports third-party tablets. Plug your own into the substantial tablet holder, and you're good to go. Content is provided on a subscription basis via the Echelon Fit app, available on Android and iOS. The app runs over WiFi and Bluetooth.
The onscreen display is very similar to the Peloton's featuring the signature leaderboard. A downside is that adjustability of the resistance requires app connectivity, restricting the offline capability of the bike. Content depth competes with the Peloton featuring a comparable number of daily classes, thousands of programs, and several hundred off-bike workouts.
It's worth wondering whether the future evolution will tack as closely to the Peloton or if Echelon will seek something to set it apart. One clue is the app aesthetic, which invokes the Peloton but does look less scrubbed. The maximum device width of 12.5in is also a candidate for revision.
Smaller standout features include a ventilated seat based on competitive race bikes. The adjustable handles feature elbow rests, and the tablet holder swivels 180° to accommodate smooth transitions to off-bike workouts.
This simple bike is a cost-effective implementation of the workout-with-screen idea. Bikes like this paint a future in which even premium machines will come with limited displays and wide tablet cradles for third-party devices. The bike maker will focus on bike mechanics and program content, leaving screen design to the pros.
Bowflex has built this model to resemble a traditional stationary bike. It is fully usable without the app. Reflecting the payoff of attention to bike design, this C7 has handlebars with fore and aft adjustment, a feature lacking on the Peloton.
As a vote of confidence in the fidelity of its design, the C7 has a longer warranty period than most bikes. Labour is guaranteed for a year, parts and spares three, and the 330lb supporting frame is covered for a full decade.
There is no subscription, and via Bluetooth, the cycle synchs with a range of apps. There is a 7 inch touchscreen tablet attached to the bike for using multiple different world class applications to ensure a great workout! 
Resistance levels are finely calibrated from one to one hundred. The bike also comes with a media holder so you can also be using your phone or tablet while on the bike, if needed. Like the Cyclace, the bike is built to accommodate riders with bigger physical frames.
Conclusion
Peloton is fast becoming a generic name denoting a class of diverse workout machines. By keeping an eye on this evolving class being sensitive to the requirements that matter to you, it is possible to get a machine that gets you returning serially for more.