As with all gym memberships and exercise equipment, sometimes we are left without the time, money, or motivation to continue our routines. The equipment becomes a needless waste of space. This happens even with expensive equipment like the Peloton Bike. So if you decide it's time to sell your Peloton Bike, how can you do that, and where can you sell it?
You can sell your Peloton Bike or Bike+ on any online marketplace or in person. The sale will void the warranty, and you will have to remove your user accounts from the Bike before selling it. If you want to sell the Bike because you want a Bike+, Peloton offers a Trade-In option to save you time.
The details of the sale will depend on your specific scenario and your reasons for selling your Peloton Bike. Peloton is known as a good brand and, as such, has a high resale value. There's no shortage of people who will buy it if you're selling, and many people scour online marketplaces looking to save a few dollars on a Peloton. Let's go into detail on the where and how of selling yours.
Where To Sell Your Peloton Bike
There are many different ways to sell your Peloton bike and numerous places to do so. Some are more reliable or safer than others. As with anything, if you sell your products online, you have to be careful to avoid scammers. Here's a short list of the best places to sell your Peloton Bike or Bike+:
Friends And Family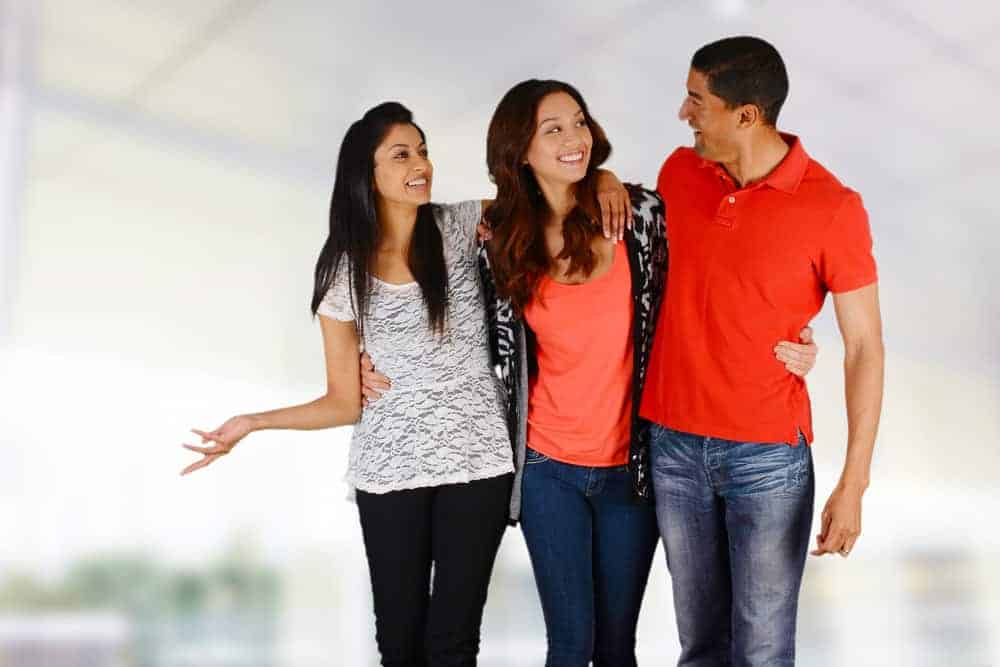 There are many advantages to selling your used Peloton Bike to friends or family members. Firstly, you know them, and you know if the buyer is reliable or not. You can often negotiate with them a bit to get a better deal since they also know you and how well you take care of your equipment. There is also the added benefit of not having to advertise.
If you don't know if your friends or family are interested in buying your used Peloton Bike, you can simply post it on your social media profile. This is free and should only take a moment, and even those you don't see often could see that you're selling your Peloton. 
Your friends and family can then always share your post with people they know. This way, you can even reach an extended circle, and you can get a character reference for the buyer from the friend or family member that referred them. This eliminates much of the risk involved with selling second-hand goods to strangers.
Another alternative is to reach out directly to those people on your contact list that you know are fitness and health nuts. Some of them could possibly be on the lookout for exercise equipment at a reasonable price.
Second-Hand Shops
Selling to a second-hand shop is probably your second-best option (no pun intended). It is a safe choice since you won't have to take chances with possible scammers, and in terms of certainty that you will get your Peloton sold, there's very little doubt that they will take it off your hands. Many companies buy second-hand goods, some even specializing in gym equipment.
There are two problems with this option. The first is the inconvenience of loading your heavy piece of exercise equipment in the car and taking it to the shop. The second negative factor is that you will probably get less money for it since the shop also has to make a profit on top of the amount they pay you. 
Generally, these shops will pay you about 50% of what the Peloton Bike would sell for in a second-hand condition. So, if it's not really about the money for you, this is definitely an excellent choice. It takes a lot of the trouble of advertising and dealing with chancers and scammers out of the process.
Online Marketplace
We have no shortage of online marketplaces these days, and some of them have masses of users going through listings each day. Two of the most popular are Craigslist and the Facebook Marketplace.
Both Craigslist and Facebook Marketplace have a buyer and seller rating system, so when a potential buyer approaches you, it's easy to see if they have a good reputation on the platform or not. This helps to eliminate some of the uncertainty of the sale. But it's still important to be careful when you're dealing with potential buyers that you know nothing about.
Facebook Marketplace has the added advantage of targeted advertising. When you list your item for sale, Facebook will show the listing in its feed to users that its algorithm identified as potential buyers. This is free advertising to ensure that your second-hand Peloton Bike reaches as many people as possible.
Here are three pro tips for selling your Peloton on online marketplaces:
Find marketplaces that have a strict registration, approval, and rating system. There are some marketplaces where you have to go through a manual membership approval process to be able to buy or sell. These are some of the most reliable marketplaces to sell, and you also tend to get paid more since you are reaching serious buyers.
Don't advertise on only one. Place the ad on as many online marketplaces as you can find. That way, you increase your ad's reach and maximize your chances of getting more offers. More offers mean more serious buyers and better chances of getting the price you want for your Peloton Bike.
Dedicated Facebook Group For Second-Hand Peloton Equipment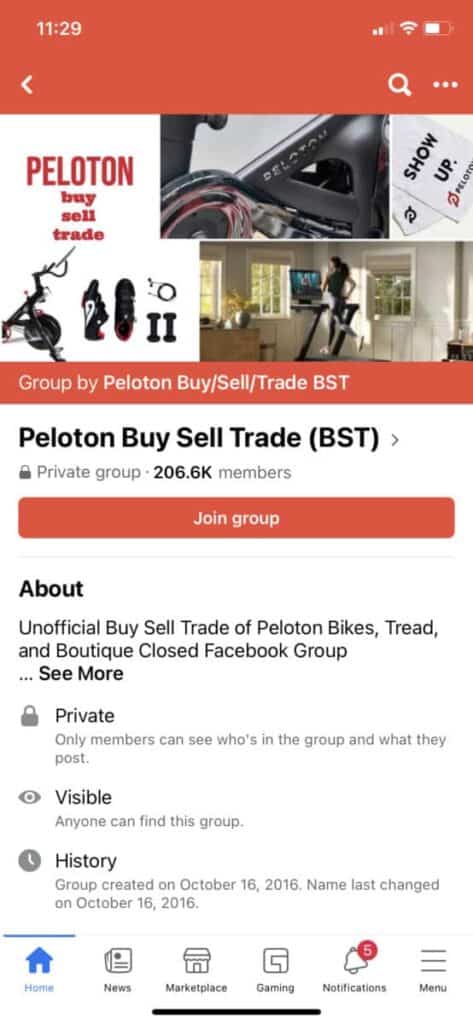 A dedicated Facebook group was explicitly created for selling second-hand Peloton equipment. This group is not affiliated with Peloton in any way, but it is recommended as an option for selling your Bike or Bike+ on Peloton's own website. 
The group is currently more than 200,000 members strong, so you have a good number of people to market to. Some of the members are also resellers of second-hand Peloton and exercise equipment, so there's an even better chance of getting your Bike sold. 
The group is also a closed group, and membership applications have to be manually approved by the owners, so there is a level of certainty that potential buyers are reliable and safe to sell to.
Peloton Trade-In
Depending on your reasons for selling your Peloton Bike, this may or may not be an option for you. It is still worth mentioning, though.
Peloton offers a trade-in option if you are upgrading from a Peloton Bike to a Peloton Bike+. If you qualify, Peloton will take your second-hand Bike and give you a $700 rebate to use towards purchasing your new Bike+, along with a free Yoga And Toning package that includes a workout mat, resistance bands, and a Yoga Strap.
To qualify for this Trade-In option, you have to meet these requirements:
You must trade in a Peloton Bike with its screen. No other exercise bikes or other Peloton products will be accepted.
Both the frame and the screen of your Bike must be in excellent condition. This means no cracks, dents, rust, or other significant damage. The screen must also be in perfect working condition.
You must reside in either Washington D.C. or one of the lower 48 states.
This must be the first time you purchase a Peloton Bike+, and the new purchase must be completed in the same transaction as the trade-in.
You won't lose any of your workout information since this is all saved on your Peloton account. It will simply be transferred to your new Peloton Bike+.
Preparing Your Peloton Bike For Sale
Once you've decided where you want to sell your Peloton Bike, it's time to prepare it for sale. Remember that the Peloton Bike and Bike+ are intelligent devices. They are not simply exercise bikes. In some ways, they are not unlike smartphones or computers since they store personal information, and a user account is linked with each device.
In the same way that you wouldn't sell your computer or smartphone without doing a factory reset, it's never advisable to sell your Peloton Bike with all your personal information still linked to it. Here are a few steps you should ideally take before selling your Peloton Bike or Bike+:
Remove All User Accounts
The first step is to unlink and delete all the accounts currently linked with your Peloton Bike. If you have multiple riders using your Peloton Bike, make sure that you remove their accounts first. Don't remove your own, though; you will do that when you factory-reset the Peloton touchscreen.
If you aren't using Peloton at all anymore, you will have to cancel your membership. You can do so by going to members.onepeloton.com/preferences/subscriptions. Click on the link to your specific subscription, then click on the "Cancel Subscription" button. After confirming the cancellation, your subscription will no longer be active.
Factory Reset The Touchscreen
Now it's time to remove all your personal data from the Peloton Bike's touchscreen device. This includes your user account, any downloaded workouts, your workout and ride history, and your internet or Wi-Fi connection details. (Don't worry, your ride and workout history will be saved in your Peloton account if you want to purchase a new Peloton Bike or Bike+.)
The factory reset process will restore the touchscreen device to the same condition (software-wise) as it was when you first received it. This ensures that it will be ready for its new owner to log in with their Peloton account and get started. To factory reset the touchscreen of your Peloton Bike or Bike+, simply follow these steps:
Power down the touchscreen. You can do this by pressing down and holding the power button at the top of the screen, and selecting "Shutdown."
Once it's completely off, press and hold both the Volume Up and the Power button. Hold them both in until the Peloton logo appears.
When the Peloton logo appears, let go of the Power and Volume Up buttons. This will start Recovery Mode on the touchscreen.
You can navigate Recovery Mode by using the Volume Up and Volume Down buttons to move the cursor up and down, and you can press the Power button to select an option.
Select the "Wipe [all user] data / Factory Reset" option and press the Power button to accept it.
Confirm the process by selecting "Yes – delete all user data."
Once the factory reset is complete, you can shut down the touchscreen completely.
When the new owner switches the touchscreen on, they will be able to enter their WiFi details and then log in to the Peloton app with their own account. Yours will be removed entirely.
Clean And Sanitize Your Peloton Bike
Let's face it; exercise equipment isn't the most sanitary thing on earth. They are exposed to dust and atmospheric elements just like everything else, and then there are skin cells and sweat on top of that. Giving your Peloton Bike to someone else without cleaning it first is not a good idea.
A few items commonly used to clean Peloton Bikes include:
Clorox wipes
Baby wipes
OdoBan Disinfectant Spray
Windex for the screen
Note that these suggestions don't come from Peloton. They are recommendations made by the many users of Peloton Bikes.
Selling Your Peloton Bike
Once you're ready to sell your Bike, you can start advertising. As you are advertising and marketing, keep these points in mind:
How much do Used Peloton Bikes Sell For?
Used Peloton Bikes usually sell for around $800-$1,000. Bike+ models will usually sell for around $1750-$2,000. Peloton has just started selling refurbished Bikes for around $950 so that has dropped the market for used Bikes. Peloton doesn't sell used Bike+ models yet, so their prices tend to be higher.
There are no clear guidelines or indications regarding a selling price for a second-hand Peloton Bike or Bike+. You obviously have to come in under the price of a brand-new model, but your selling price will depend on a few factors like:
The general condition of the Bike
Model and version of the Bike
Age
Extras included
Remember that a second-hand Peloton Bike or Bike+ won't have a warranty. Even if you sold it only a few months after purchase, the sale would void the warranty completely. The new owner will have no warranty of any kind. This will also affect the selling price considerably.
You could include extras like an ethernet network connector, a mat to place under the Bike, and even prepaid credits that you purchased. These items can be added to boost the selling price a bit more.
Second-hand Peloton Bikes are selling on Craigslist for between $900 and $1,500. The more expensive of these are stated on the listings to have been "barely used" and in a "like-new" condition. The Peloton Bike+, on the other hand, sells for up to $3,000 on Craigslist. 
It's a good idea to spend some time on your platform of choice to get an idea of how much other people are charging for the same thing. Compare models and revisions that are identical to yours so that your perceptions aren't skewed.
Also, keep in mind the price that the equipment would sell for brand new. Remember that the sale will void the warranty even if your Peloton Bike is nearly brand new and barely used. There's a loss of value right there. Furthermore, if your price isn't significantly lower than the price of a brand-new model, most buyers would rather pay a little bit more for a new model that includes a warranty.
Information To Include In The Listing
Being open and honest in a listing is essential. It will improve people's perception of you as a seller, and potential buyers will see you as more trustworthy and reliable, making them more likely to buy from you.
Some things that you should include in your listing are:
Name of the item. Don't just call it "Peloton" or "Peloton Bike." Indicate if it's the Bike or Bike+, the model or version number, anything that could set it apart from other models. This way, people will be less inclined to waste your time because they will already know what they need to know.
The condition or degree of wear. Include details about even slight blemishes like scratch marks.
The price. Many people simply say "on request" instead of giving the price. This discourages buyers and could make them think you have something to hide. Be honest and straightforward about your price.
Your location or shipping arrangements. If the buyer is to collect it from you, you will have to indicate your general location so that they can determine what it will cost them and work out the logistics.
Return policy, if any. Are you willing to give them the opportunity to return it to you, and what would your approach be in that case?
Guarantee. Yes, Peloton's warranty will be void upon selling your Bike. But some retailers offer their own guarantees, like eBay's money-back guarantee. It's essential to include any guarantee information in your listing.
Extras that are included. List these in detail and make sure that people understand what they get with the package.
Photos. Include detailed, high-quality photographs of your Peloton Bike, including close-ups of any blemishes, wear, or damage.
A good listing will immediately set you apart from other sellers. It's worth taking the time to properly formulate the information and the words you will use to advertise your Peloton Bike to prospective buyers.
Transfer Prepaid Membership Credits
If you have any prepaid membership credits, you can transfer those to the new owner. You may even charge extra for that if you wish. You can do the transfer by simply emailing [email protected] and requesting the transfer of credits. You will have to specify both your rider name or email address and that of the new owner. It's as simple as that.
Questions Buyers May Ask You
Here are some of the questions that Peloton buyers commonly ask and the best way to respond to them:
Do You Have A Proof Of Purchase?
A potential buyer may ask this question to ensure that the Peloton Bike you're selling isn't stolen. If they purchase stolen goods and get caught with them, not only could they lose the Peloton Bike they bought, but they could also be implicated in the theft. It's a good idea to keep your original proof of purchase so that you can put them at ease that it is legitimately yours, to begin with. 
Is Shipping Included?
The Peloton Bike is a heavy piece of equipment and not the easiest thing to transport. Many buyers may have trouble collecting it from you and may request shipping. It's essential to be clear on the shipping terms while discussing the terms of sale so they know exactly where they stand.
Are You Including Membership Credits?
Since you are selling your Peloton Bike, it's reasonably safe for the buyer to assume that you will no longer use your subscription. Similarly, it's safe to think that the buyer will need to get a paid subscription.
As mentioned above, if you prepaid for your subscription, that credit can be transferred to the new owner. A simple email to Peloton's support team is all that's required to do this transfer. So if you wish to include your prepaid credits with the sale, make them the offer. Add it to the price if you want. But be transparent and honest about it.
Why Are You Selling? What Is Wrong With It?
It's normal for buyers to be skeptical if a deal seems too good to be true. They also want to know that they're not buying a dud, that their money is buying them something worthwhile that will last a long time.
Don't get impatient with buyers who want to do their due diligence. They have the right to ask questions and even to inspect their purchase before paying. They need to see any faults or blemishes, see the touchscreen in action, and even take a test ride on the Bike. Give them the opportunity to do so.
Remember that we all know about Photoshop these days. Photographs can lie. Even videos can lie. Let them inspect the Peloton Bike and ask any questions that they may have.
Does It Come With Any Accessories?
If you have any extras that you want to throw in there, mention them. You may even keep some of these extras as bargaining chips for a higher price. Peloton has many accessories and extras that you could add to sweeten the deal. If you're charging extra for the extras, mention that and be ready to defend your reasons for doing so.
Are you The Original Owner?
Just like buying a car, there's a difference between buying it new, or from the original owner, or from the fifth owner. By the time the Peloton Bike's going to its third or fourth owner, it's pretty apparent that it's been hammered a bit. By now, quite a few people have used it to burn their calories, and all that use will take its toll on the Bike.
Be honest about this. Don't try to sell a Bike that's been used 500 times as if it's only been used five times. The buyer has the right to know precisely what they're getting.
Conclusion
Second-hand gym equipment generally has a good reselling value, but that's even more true of Peloton. Such a well-known brand name is known for quality, and people know that a second-hand Peloton machine is still suitable for years of training. Because of this, you should have no problem finding a buyer for your Peloton Bike. Follow these guidelines, and yours will be sold in no time.