Peloton Bikes and most spin bikes come standard-fitted with Delta clip-in pedals that are compatible with road cycling shoes. However, if you had hoped you would be able to ride your new Peloton in your sneakers or off-road SPD cleats, there is a solution for you! 
You can ride a Peloton Bike without cleats by replacing the Delta clip-in pedals with toe cages. You'll miss some of the advantages of riding with cleats, but you will not have to get a specific pair of shoes just for your Peloton, and friends and family without cleats can use the bike. 
Peloton used to sell pedals with toe cages, but you can also find ones on Amazon. There are even models with both SPD and Delta connections. They are easy to fit to your Peloton. Here, we discuss everything you should know to start riding your Peloton Bike without cleats and the benefits of replacing the clip-in pedals with toe cages. 
Do You Have To Ride A Peloton Bike With Cleats?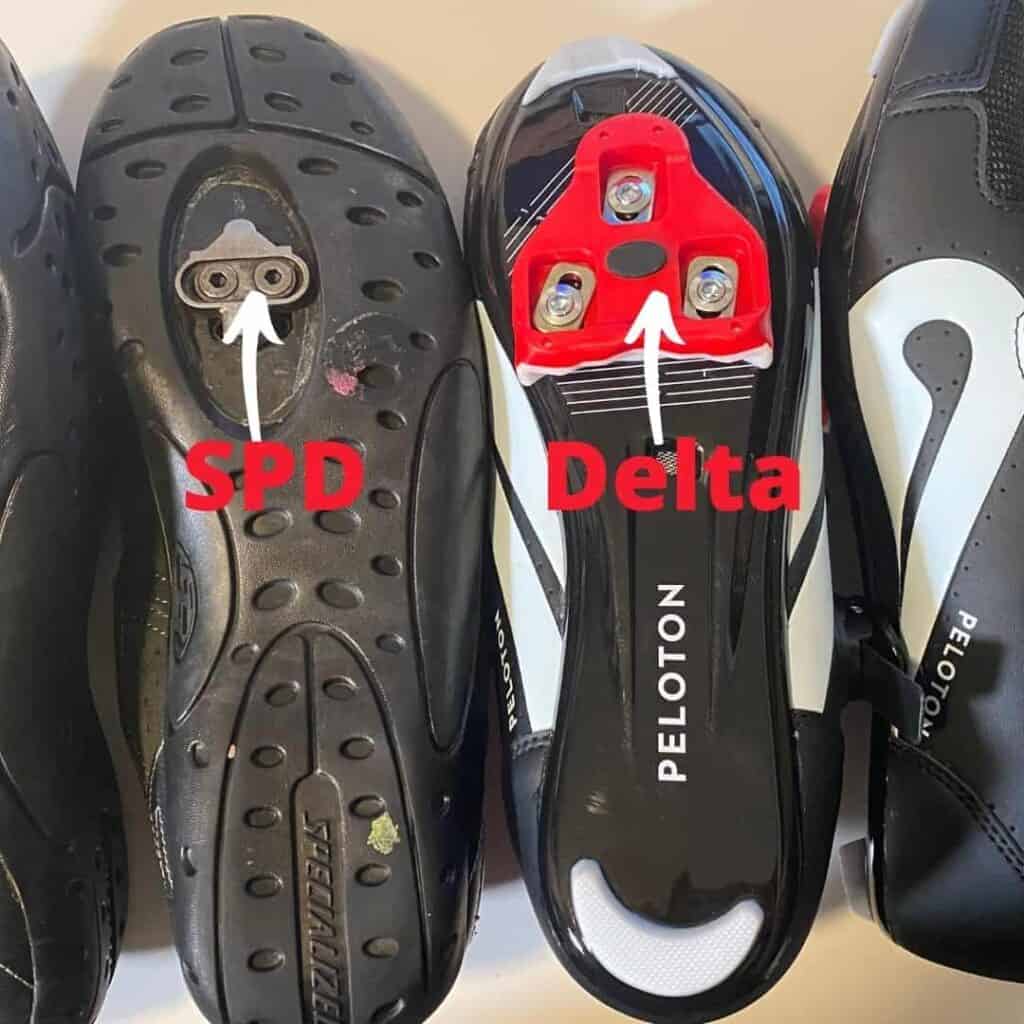 Peloton recommends using the Bike with Delta-compatible cleats. Like most road cycling shoes, they have a 3-screw connection. SPD cleats, like the ones you wear at a regular spinning class, have a 2-screw connection, so they are not compatible with a Peloton Bike. 
Peloton workouts are live or pre-recorded, and certain metrics are recorded during your ride. One of the key metrics is your functional threshold power or FTP score. Wearing cleats when you ride a Peloton will help you achieve a better score. 
You might be wondering – is it possible to ride a Peloton Bike without any cleats? Can one just wear regular sneakers or trainers to ride a Peloton?
Thankfully, the answer is yes! 
Replace Peloton Clip-In Pedals With Toe Cages
The clip-in pedals must either be replaced with pedals with toe cages or toe cages need to be added to the Peloton pedals for one to be able to ride a Peloton without cleats. Toe cages are readily available and easy to install yourself. 
All you have to do is unscrew the standard Delta cleat pedals and screw in the toe cage attachments. All you need to do this simple task is a 3mm Allen key (older Peloton Bikes) or a 15mm wrench (newer models).
Take note that the usual "right to tighten, left to loosen" rule does not apply here! 
On the left pedal, the thread is reversed (so that it does not loosen as you ride). This means that you turn to the right to loosen and to the left to tighten. 
Benefits Of Riding A Peloton With Toe Cages
People choose to switch out the Peloton Delta cleats for toe cages for several reasons. Let's look at some of the advantages of attaching pedals with toe cages to your Peloton:
Toe cages are more convenient because you do not need a specific pair of shoes just for your Peloton. While cleats do increase your cycling performance, many people prefer not having to change shoes for a workout.
Toe cages allow anyone to use a Peloton, so guests, friends, and family members who don't have cleats can use the Bike.
Clipping into the pedals with cleats can be difficult for people with limited mobility, so pedals with toe cages can be better for people like seniors. 
If you are not used to doing it, clipping in cleats can be a little tricky. Sliding your feet into toe cages may just feel more comfortable. 
With toe cages, you do use your Peloton as part of a Bootcamp circuit. It is impractical to do this with Delta cleats because you can't do other exercises in them. 
How To Use Toe Cages When Riding A Peloton
Once you have switched the Delta cleats to toe cages, you are ready to ride! But what is the correct way to strap into toe cages for the optimal ride?
Put your foot into the toe cage to check if it is the right size. You can adjust the toe cage by sliding it backwards or forwards. 
With your foot in the cage, pinch the metal buckle on the outside of the cage and pull the strap to tighten it. 
With your foot securely held in the toe cage, you are ready to ride! 
Toe Cages Vs Cleats With A Peloton Bike
There are some great advantages to riding a Peloton with cleats. The sensation of riding in cleats is quite different from riding with toe cages.
Cleats have a very rigid sole, and because your feet are fixed to the pedals, your legs become "one with the bike". Your strokes are more powerful because there is a higher transfer of power.
With regular shoes and toe cages, there is lower power transfer because your feet are not directly in contact with the pedals for the whole stroke. Harder work can feel more difficult with toe cages. 
You engage more muscle groups riding with cleats because you can actively pull on the upstroke. This means you get a slightly more intense lower body workout riding with cleats than with toe cages. 
Where To Buy Toe Cages For Peloton Bike
There are many different vendors, particularly on Amazon that sell pedals with toe cages that are compatible with the Peloton. They generally cost between $35 and $50. 
We highly recommend these pedal toe clips that many people love using with the Peloton bike and bike+. 
For a more budget-friendly pair of toe cages, we recommend these. 
More Information
For more information on toe cages, as well as some other types of toe cages we recommend, check out this article!
If you are looking for more info on the warranty and how changing the pedals may affect the warranty check out this article HERE!
Conclusion
Riding a Peloton with cleats definitely has its advantages in terms of performance and power output. However, if you are not overly hung up on your FTP score and don't like the idea of buying another pair of shoes specifically for your Peloton, you can ride without cleats. 
Peloton Bikes come standard-fitted with Delta-compatible cleats, but you can buy toe cage attachments so that you can ride in regular shoes. Toe cage attachments are convenient, easy to install, and they make it so that your kids, friends, and visitors can ride your Peloton.