People love to track their progress through stats, and the Peloton does this incredibly well, but it only does when using the bike. Fitbit tracks your stats (steps walked, calories burned, etc.) all day, and many individuals use this as their day-to-day stat tracker. So, can you link the two together?
Fitbit works with Peloton, although you will not be linking any device to your Peloton bike. You will share your data and metrics with Fitbit at the end of every cycling class via the share icon. Heart rate data will not be sent to Fitbit because its devices track heart rate for you instead. 
How do you connect your Fitbit to your Peloton? What about Peloton heart rate monitors? Do those stats get sent to your Fitbit dashboard? We answer all these questions and more regarding Fitbit devices, Fitbit's dashboard, and linking it to your Peloton. 
Does Fitbit Work With the Peloton App?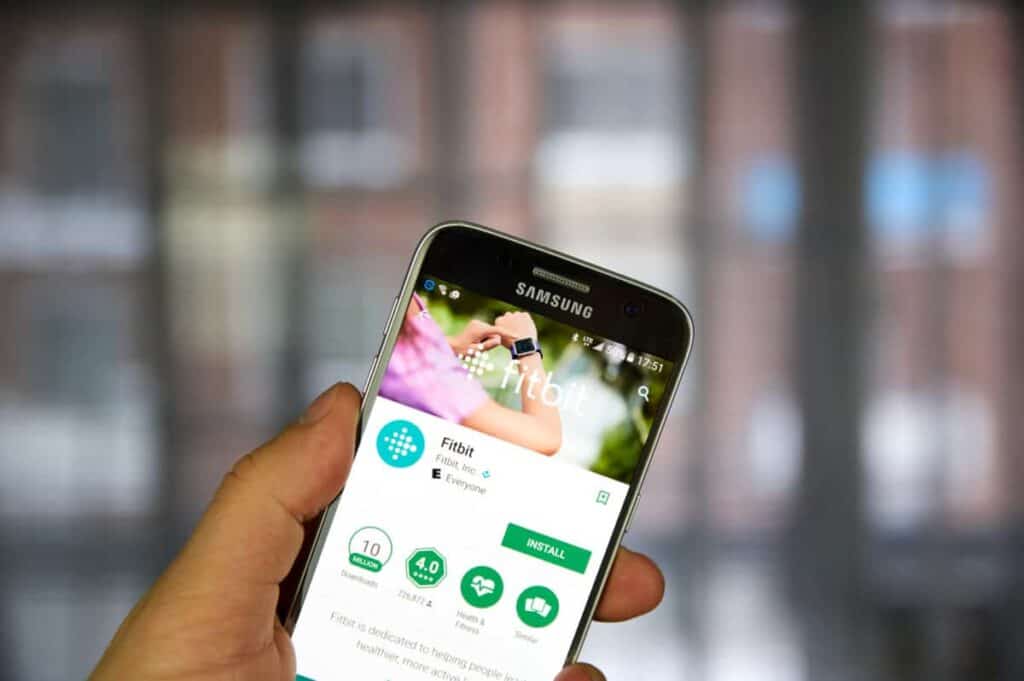 Yes, Fitbit does work with your Peloton bike or bike+. By connecting your Peloton to your Fitbit account, you will be able to share the metrics from your Peloton rides, and they will be logged and stored in the Fitbit dashboard. 
Before we dive into how to set up your Fitbit and your Peloton so that they will share and correlate all the data from your rides, let's first understand why you would want to do that and if there are any restrictions. 
Fitbit Overview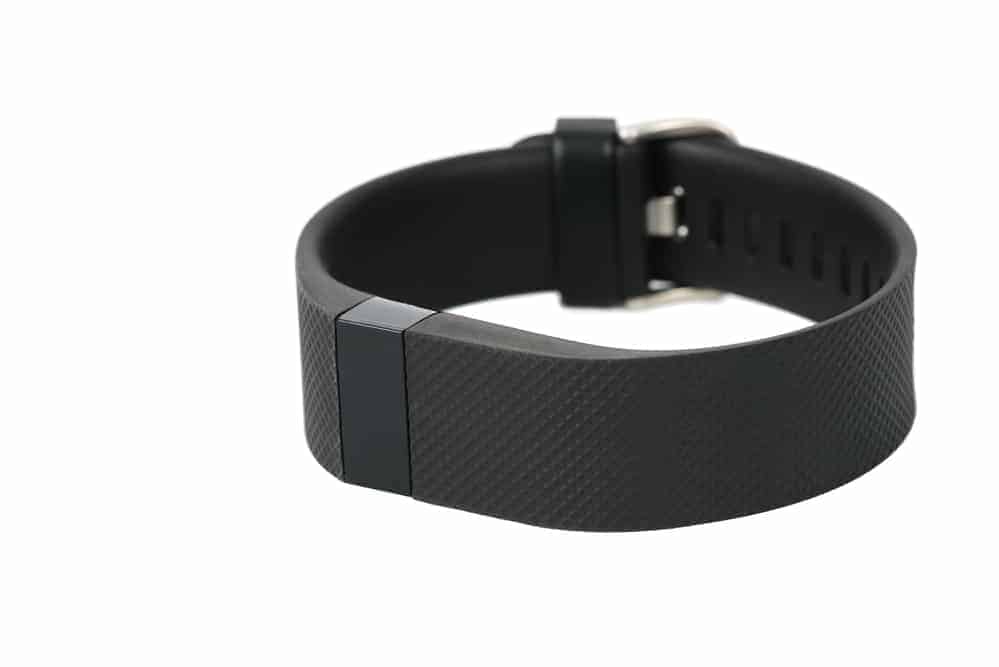 Fitbit is a wireless wearable technology that monitors and tracks physical fitness and activities. Fitbit produces trackers, smartwatches, pedometers, fitness monitors, and heart rate monitors. The functions of these devices are to track, record, and save metrics for quality of sleep, stairs climbed, steps walked, calories burned, and heart rate monitoring. 
These devices send data to your Fitbit dashboard wirelessly so you can keep up to date with your fitness and lifestyle progress. 
Why Would You Want To Use a Fitbit With Your Peloton?
If it's not already clear, the main reason to link the two together would be to correlate the data that your Peloton records with your Fitbit dashboard. This is so that your Fitbit data (that is taken all day and night) is not invalidated because it is not incorporating your Peloton metrics. 
For example, if you are cycling and burning an excess of 700 calories per riding session, you would want to see that added to the daily amount of calories you have burned when looking at your Fitbit dashboard.
This is great because if you have set yourself specific fitness or lifestyle goals, you would want to keep track of everything you are doing (walking, running, cycling), which makes it much simpler and easier to do. 
Does Peloton Share All Its Data With Fitbit?
Your Fitbit will track and receive most of the metrics from your Peloton except for heart rate monitoring. This is because Fitbit devices automatically track heart rate and will not sync with that feature on your Peloton bike or even the Peloton Tread. Fitbit has hinted at this integration in the future, but at this present time, it is unavailable. 
However, there is a workaround wherein you can track your heart rate on the Peloton bike, but this will require you to purchase an additional heart rate monitor that is ANT+ compatible. Using an ANT+ heart rate monitor synced to your Peloton, the metrics for your heart rate will be sent to your Fitbit dashboard. 
Here is the ANT+ heart rate monitor that we recommend to use with both the Peloton and the Fitbit tracker. 
How Do You Connect Your Fitbit To Your Peloton?
Suppose you have read some of my other articles where I go over how to connect other devices to your Peloton, such as Bluetooth headphones or Apple AirPods. In that case, you will know that you will be using Bluetooth to connect a wireless device to your Peloton. 
However, the process to relay the information from your Peloton to your Fitbit dashboard is actually much simpler than that, and in essence, you won't be connecting your Fitbit device to your Peloton. You will only be sharing your class metrics to its dashboard once the class is complete. 
How Do You Share Your Peloton Data To Your Fitbit Dashboard?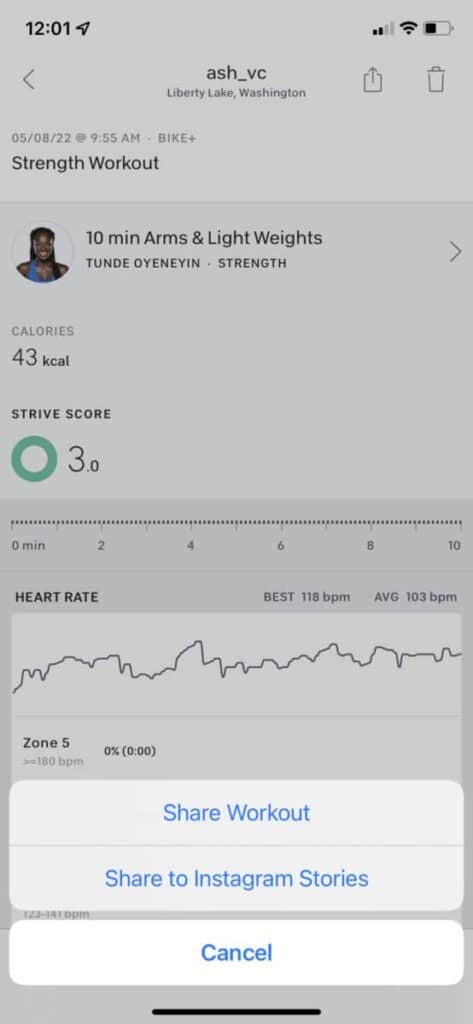 Sharing your Peloton class data to your Fitbit dashboard is as easy as tapping and sharing. Remember that, in fact, for this process, you will not be "connecting" your Fitbit to your Peloton but rather sharing the data. 
Once you have completed your Peloton class on your bike, you will locate the "Share" icon
Tap the "Share" icon
Look for the option that says "Fitbit."
Tap the "Fitbit" option
Log into your Fitbit account
Once you have logged into your Fitbit account by tapping the "Share" and subsequently the "Fitbit" selections, all the data and metrics from your completed workouts will be sent to your Fitbit dashboard
Can You Share Any Rides Data With Your Peloton?
No matter what class you want to take in terms of choosing on-demand and live classes or solo rides, once the ride is complete, you will have the option to share that data. As we instructed above, all you will need to do is tap the share icon and select the Fitbit option. This will send your ride metrics (no matter the class) to your Fitbit dashboard. 
What If I Want To Use An ANT+ Compatible Heart Rate Monitor?
If you want to track your heart rate along with your Peloton and send that data to your Fitbit dashboard, you will need to link the heart rate monitor (ANT+ compatible) to your Peloton. This will allow you to monitor your heart rate and display it on the top left-hand side of the touchscreen while you ride. 
Take note that Fitbit does not allow you to connect any external (other) heart rate monitors to their devices or software. 
Thus using an ANT+ monitor that is compatible with your Peloton is the only way to achieve this. In order to connect your ANT+ heart rate monitor to your Peloton, you will typically, again, do this via the Bluetooth options, where you will pair the two devices together. 
What Fitbit Device Do We Recommend To Use With Peloton?
We recommend two different Fitbits to use with Peloton. Generally people enjoy using the Fitbit because they have been around for years now and they can be much less bulky than an Apple watch. Here is the fitbit we recommend if you are looking for a small device to wear around your wrist. 
If you are looking for something more similar to the Apple watch this Fitbit has rave reviews and many people actually prefer it over the Apple watch!
Conclusion
We conclude that you can, in fact, relay the data and metrics from your Peloton bike rides to your Fitbit dashboard by simply sharing the data at the end of your ride by tapping the "Share" and "Fitbit" icons. 
Essentially you do not connect your Fitbit to the Peloton at all because Fitbit devices don't allow you to do that, but the upside is your metrics can still be merged. 
Moreover, Peloton doesn't track your heart rate unless you are using a compatible ANT+ heart rate monitor, and your Fitbit device tracks your heart rate on its own. Thus, the only way to send your heart rate data from the Peloton to your Fitbit is through using an ANT+ compatible monitor that you connect to your Peloton via Bluetooth.