Peloton Bikes have pedals with 3-screw Delta cleats, so you need a compatible pair of cycling shoes to ride. Peloton recommends riding with cleats for the optimal workout experience. For an extra $125, you can order a Peloton Bike that comes with cycling shoes. But you may be wondering if it is worth the extra cost. Should you buy cycling shoes from Peloton, or can you ride in other shoes?
You can switch out the standard Peloton Bike cleats for toe cages or SPD cleats, so it is not strictly necessary to buy shoes from Peloton. You can ride a Peloton in trainers or any Delta cleats with a 3-screw attachment. One can buy good quality Peloton-compatible cleats on Amazon for around $50.
Peloton cycling shoes are more than double the price of other indoor cycling shoes. Is there anything special about them? Should you buy shoes from Peloton or just wear your regular spinning shoes? 
Are Peloton Cycling Shoes Worth It and Should you Buy Them?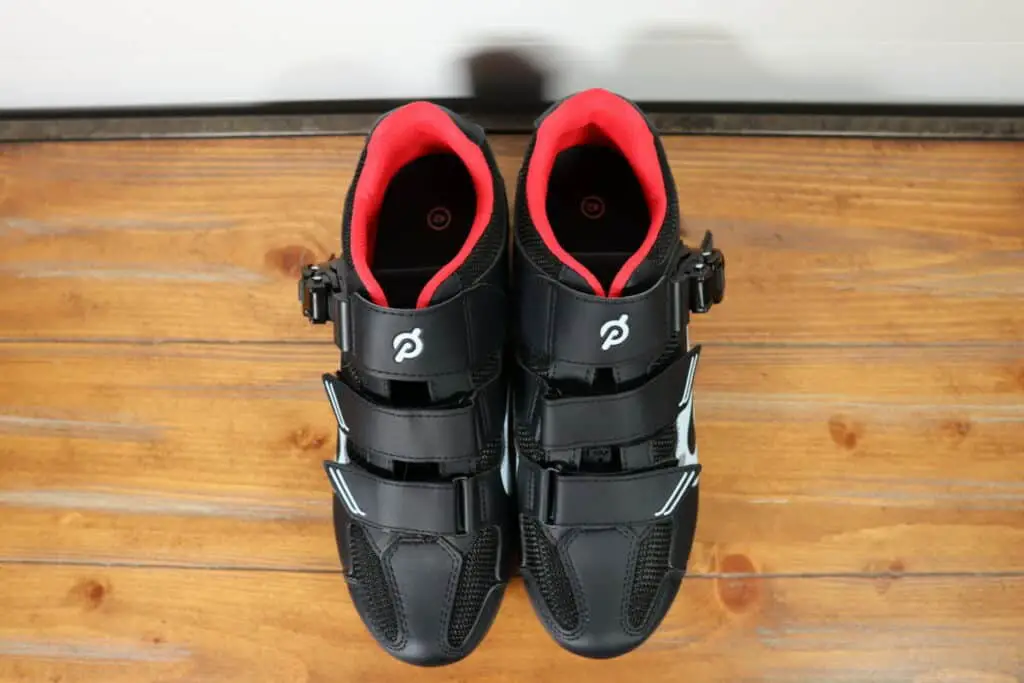 Wearing the right shoes when you're cycling is important for form and performance. Cleats stabilize your feet and attach to the pedals so that your pedal strokes are more powerful. If you have already gone to the expense of buying a Peloton Bike, you want to be sure you have the right shoes for the optimal ride.
Peloton cycling shoes are good quality, have a firm sole, are breathable, and have secure Velcro and ratchet straps. They have Delta cleats which are compatible with Peloton Bikes. 
However, there are many other brands of cycling shoes with the same type of cleats that will work just as well as Peloton shoes. It is not strictly necessary to buy a pair of shoes from Peloton. 
If you already have a pair of cycling shoes with Delta cleats, it is definitely not worthwhile to buy another pair from Peloton! However, if you need to get yourself a pair of cleats, is a Peloton pair the best option?
On Amazon, one can buy decent-quality cycling shoes that are compatible with Peloton Bikes for around $50-$100. That is up to $75 less than Peloton cycling shoes! They are well worth buying if you are looking for a pair of cleats.
Of course, there are also snazzier cycling shoes that cost upwards of $400. They may only be marginally better than Peloton shoes (or cheaper brands), so it is not necessary to splash out on cycling shoes that are way outside your budget. 
You Do Not Need Cycling Cleats To Ride A Peloton Bike
If you are not comfortable with wearing cleats while you ride, you can get toe cage attachments for your Peloton Bike. With toe cages, you can wear regular running shoes, so there is no need to invest in a special pair of shoes for the Peloton. 
Peloton used to sell toe cage attachments that clip onto the standard pedals, now you must buy pedals with toe cages elsewhere and change out the whole pedal. They are cheap (around $50 on Amazon) and easy to install. 
Therefore, you do not really need to buy Peloton cycling shoes at all!
NOTE: Peloton has sent many mixed messages to consumers regarding if it is okay to change the pedals or not. The overall consensus is to be careful in changing the pedals because it may void your warranty if Peloton were to find out. If you have changed the pedals… then keep the Peloton pedals so they can be changed back if you need assistance from Peloton. If you are out of warranty then you are free to change the pedals without consequence!
The Cost Of Peloton Cycling Shoes
Peloton sells two different models of shoes – Altos cycling shoes and the standard cycling shoes. The standard cycling shoes cost $125, and the Altos cost $145.
Advantages Of Peloton Cycling Shoes
Peloton cycling shoes are more than double the price of other shoes with Delta cleats, so what makes them better?
Peloton brand cycling shoes are the classic red and black Peloton colors, so they look great with your Bike. 
Peloton cycling shoes come with compatible cleats (some cycling shoes do not come with cleats included).
You can be 100% certain that the shoes are compatible with your Peloton Bike. 
The standard Peloton shoes have a mesh air vent in the base, and the uppers are made of breathable material, so your feet are dry and comfortable while you ride.
They also have both Velcro and ratchet straps, so you can get the perfect fit. 
The Altos shoes have a sleeker design, with only one Velcro strap that runs diagonally across your foot. 
The Altos shoes have a snugger, sock-like fit, and they are constructed from breathable fabric for your comfort. 
Alternatives To Peloton Cycling Shoes
If paying $125 to $145 extra on top of the steep cost of the Peloton Bike itself seems a bit extravagant to you, look at some alternatives to the Peloton brand shoes. They will work just as well and come in different color options if you do not fancy red and black. 
The top-rated cycling shoes that we recommend are listed in our top article here.
If you want to skip the article and go right to our favorite, read all about them here, or just check them out on Amazon. They aren't even the most expensive we have tried!
Ride With Toe Cages Instead Of Cleats to Avoid Buying Spin Shoes
To avoid buying cycling shoes altogether, you can opt to install toe cages on your Peloton Bike. Riding with toe cages is slightly less efficient, but if you feel more comfortable riding in your trainers, then they are well worth buying.
Toe cages cost less to buy than cleats. Peloton sells ones for $40, and you can get ones from Amazon for $35 to $50. 
Peloton toe cages that they previously sold, were attached directly to the standard Peloton pedals, so you did not need any special tools to install them. Unfortunately, Peloton recently stopped selling toe cages.
 Pedals with toe cages attached can easily be installed. You just have to unscrew the standard Peloton pedals using a 3mm Allen key or a 15mm wrench and screw and tighten the new pedals. 
When you place your feet inside the toe cages, you have to tighten the straps to secure your feet to the pedals. All you have to do to release your feet is twist them to loosen the straps. 
Many new cyclists find it easier and more comfortable riding with toe cages instead of cleats. 
Here are the toe cages we recommend, these are wonderful because you can use them with both cycling shoes and regular tennis shoes. This is great if other people (like guests) want to use the Peloton but do not have cycling shoes. 
REMEMBER: Changing the pedals or adding toe cages that are not directly from Peloton may void your warranty. Proceed with caution.
Conclusion
You need special shoes to ride a Peloton Bike – they need to have Delta cleats to clip into the pedals. Peloton does sell its own brand of cycling shoes, but you do not necessarily have to buy them. Many other brands of cycling shoes are compatible with Peloton! You can even avoid buying special shoes with cleats altogether and opt for a pair of toe cages.